Heal - Sour Apple Flavor
Recover faster from surgery and injuries
Heal - Sour Apple Flavor
$99.00
About
Heal is designed to reduce recovery times and improve physical function after surgery and injuries by accelerating muscle repair while helping maintain a healthy inflammatory response.
Product Facts
Form: Powder
Serving Size: 1 Scoop (12.5 g)
Number of Servings: 30
Product Weight: 375 g
How to Use
For recovery from normal aches and pains, mix 1 scoop with 8 oz of cold water. When using for surgery or injury recovery, take 2-3 scoops twice daily in between meals. Begin using 1 month before surgery date.
Dietary Qualifications

Vegetarian

GMO Free

Soy Free

Gluten Free

Natural Flavors & Colors

Halal

Patent Protected

Keto Friendly
Clinical Benefits
Improve physical outcomes and recovery times

More than 3 times more efficient at triggering muscle growth and repair than any other protein source

Help maintain healthy inflammation levels

Help preserve muscle mass during periods of complete inactivity

Improve physical strength and function as measured at 6 weeks post surgery
How to Use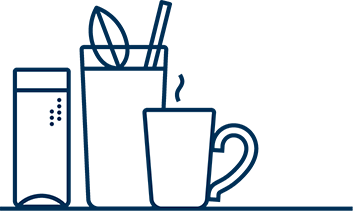 Easy & Convenient
Simply mix a scoop of powder with 8 oz of water and enjoy. You can also mix into your morning coffee or a smoothie.

Early & Often
Clinical trials show the benefits increase the more you take. For best results, take 3 scoops twice daily for maximum results.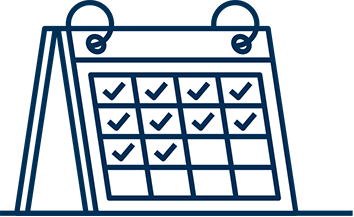 Consistency Is Key
When using as part of your normal routine, take 1-2 scoops daily. For injury or surgery recovery, take 2-3 scoops twice daily. For best outcomes, begin use at least 1 month before surgery date.
The Science
Heal is designed to accelerate muscle repair and growth even during times of physical inactivity, getting you back on your feet faster and stronger.
---
Periods of inactivity, such as those caused by injury, surgery, fatigue, etc., lead to a decrease in muscle mass. The essential amino acid (EAA) profile of Heal has been shown to increase muscle mass, even during times of complete physical inactivity.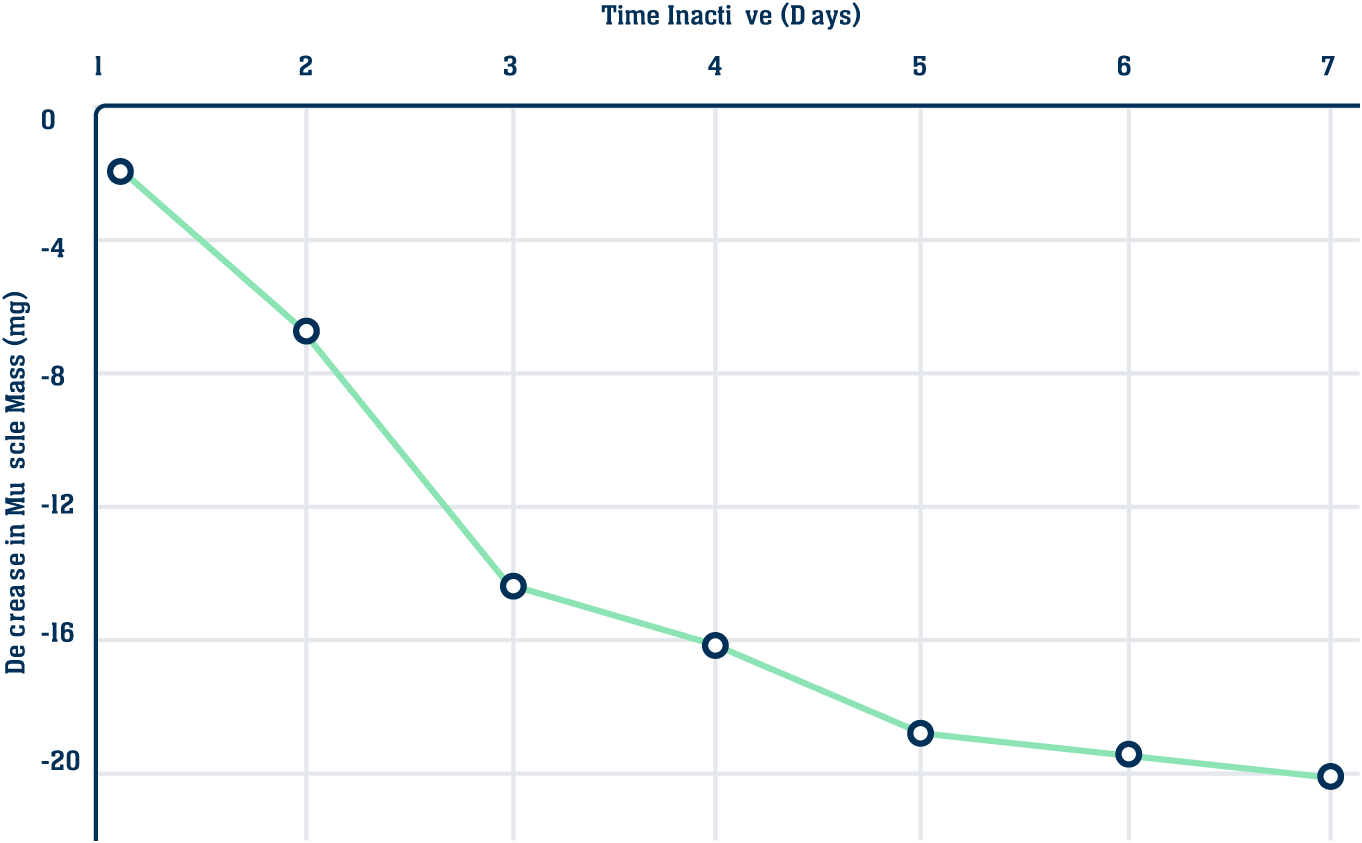 Kortebein P, Symons TB, Ferrando A, et al., J Gerontol A Biol Sci Med Sci. 2008;63(10):1076‐1081. doi:10.1093/gerona/63.10.1076 PMID: 18948558
The EAA profile of Heal was originally developed to help NASA astronauts maintain muscle mass in space, and then was refined to help everyday people experiencing prolonged periods of inactivity.
Studies have shown just 2 weeks of inactivity results in decreased muscle mass and a 50% drop in muscle protein synthesis.
The problem is that recovery from injury or surgery generally involves prolonged inactivity. Inactivity decreases muscle mass, which prolongs recovery and a return to full strength.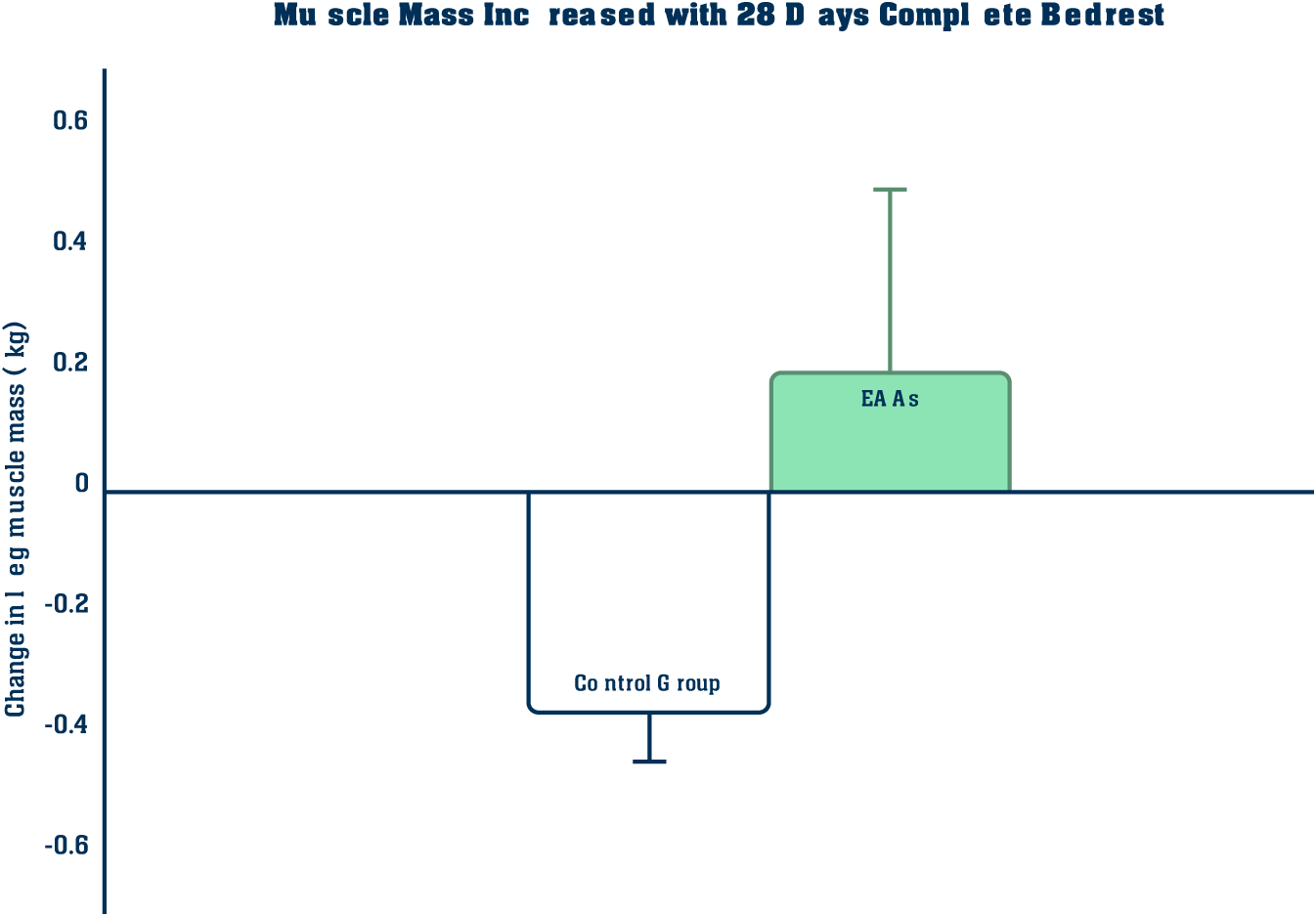 Paddon-Jones D, Sheleld-Moore M, Urban RJ, et al., J Clin Endocrinol Metab. 2004;89(9):4351‐4358. doi:10.1210/jc.2003-032159 PMID: 15356032
In a study funded by NASA to look at how to prevent astronauts from losing muscle in the zero-gravity environment of space, scientists confined people to bed rest, essentially laying motionless for 28 days straight. Predictably, the placebo group experienced significant loss of muscle during the inactive period; however, the group taking the EAA mixture in Heal actually saw an increase in lean body mass.
This demonstrated that even with extreme inactivity and no movement/exercise of any kind, the essential amino acids in Heal generated gains in muscle mass.
In order to accelerate recovery from injury, muscle growth and repair must be triggered even when physically inactive. Heal generates a significantly larger gram-for-gram effect than any other protein source.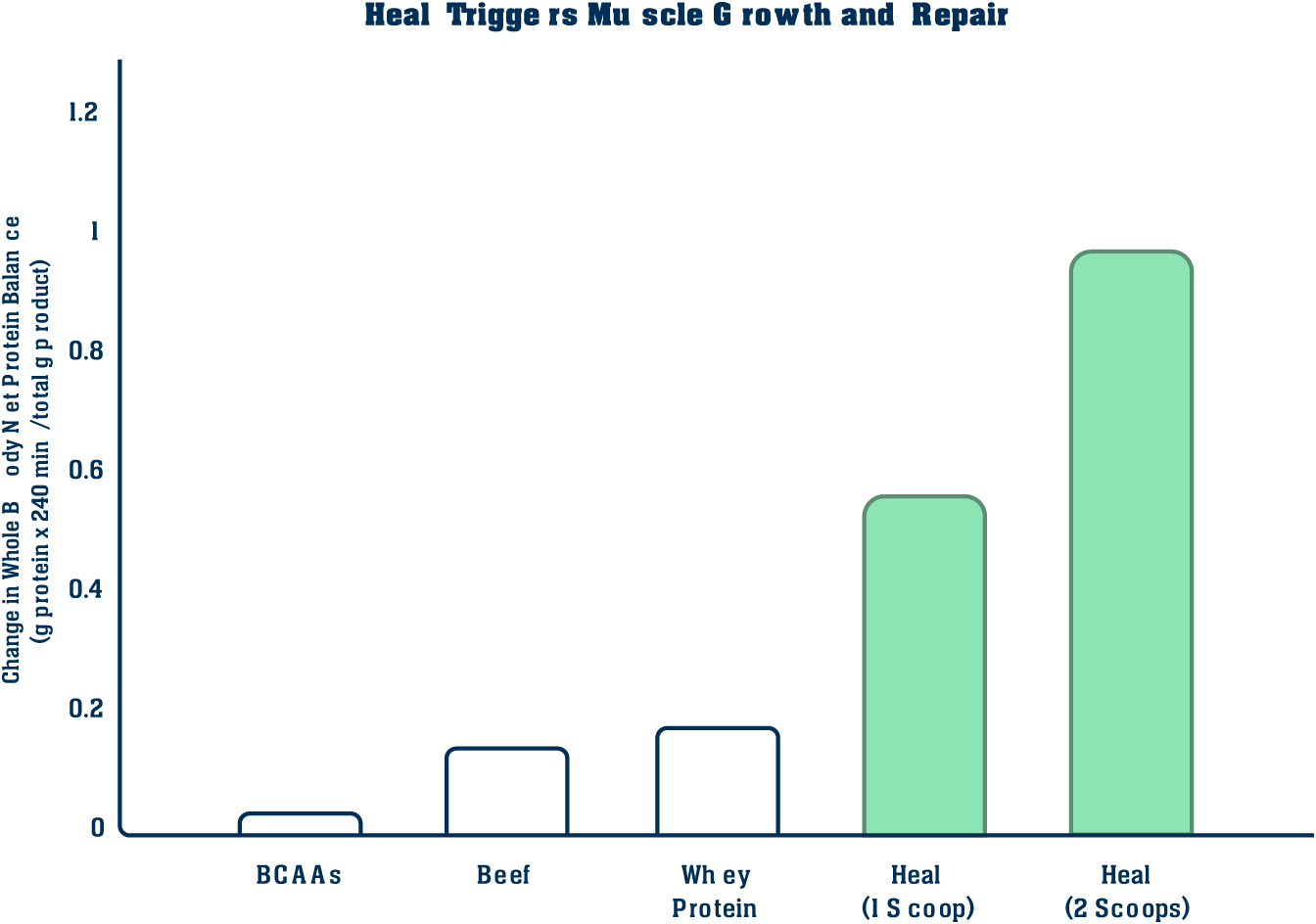 Park S, Church DD, Azhar G, Schutzler SE, Ferrando AA, Wolfe RR., J Int Soc Sports Nutr. 2020;17(1):9. Published 2020 Feb 10. doi:10.1186/s12970-020-0340-5 PMID: 32041644
Tipton KD, Elliott TA, Cree MG, Aarsland AA, Sanford AP, Wolfe RR. Am J Physiol Endocrinol Metab. 2007;292(1):E71‐E76. doi:10.1152/ajpendo.00166.2006 PMID: 1689616
Heal has been proven superior in direct, head-to-head clinical trials.
A recent clinical trial compared 1-scoop and 2-scoop amounts of Heal with high-quality whey protein.
The net balance between whole-body protein synthesis and breakdown was measured, and the response to Heal was found to be at least 3 times larger than that of whey protein on a gram-for-gram basis. Heal was shown to both reduce muscle protein breakdown and increase muscle protein synthesis.
Further, increasing the amount of Heal taken improved the effectiveness of the product, as the larger 2-scoop serving was roughly 6 times more powerful than whey protein on a gram-for-gram basis.
Accelerating muscle repair only matters if it leads to tangible benefits. Clinical trials on patients undergoing surgical treatments have shown significant improvements across a variety of physical function tests.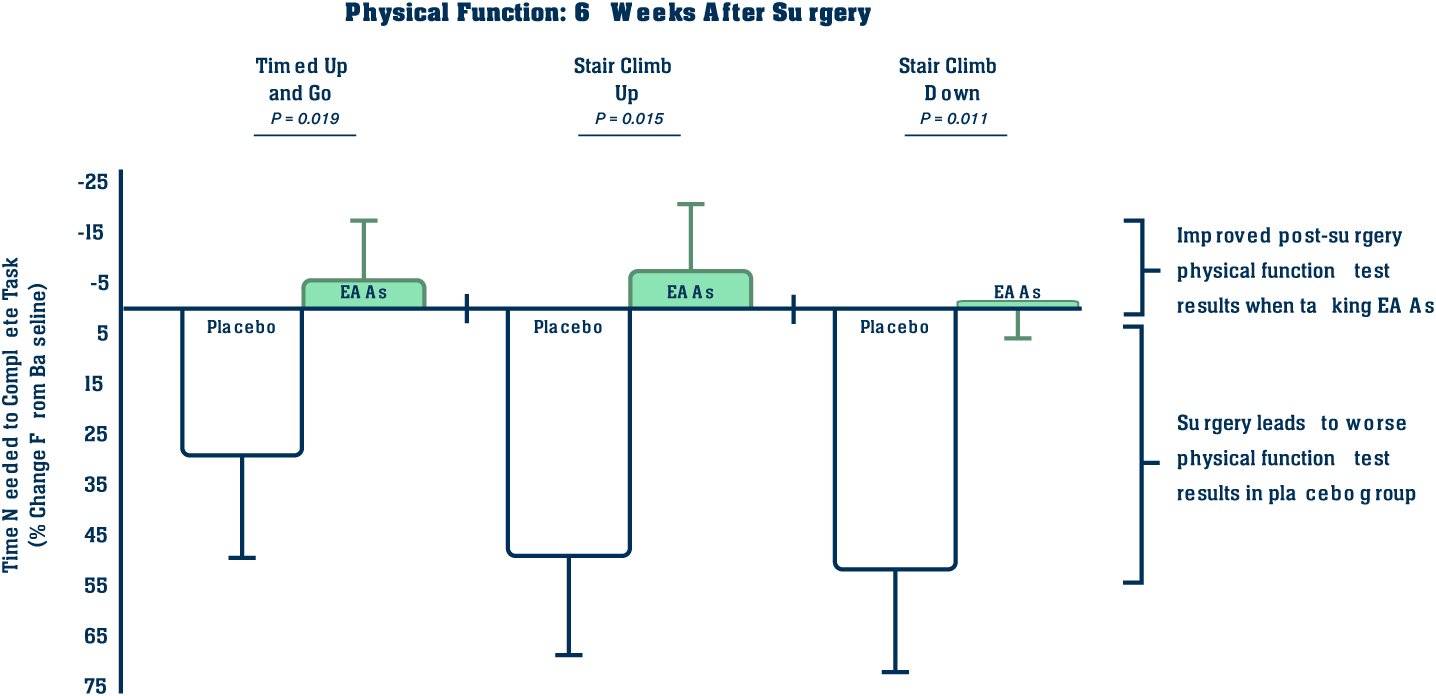 Dreyer HC, Strycker LA, Senesac HA, et al., J Clin Invest. 2013;123(11):4654‐4666. doi:10.1172/JCI70160 PMID: 24135139
In a recent clinical trial, at 6 weeks post surgery the placebo group was still struggling with significantly diminished physical performance, while the EAA group had physical test results better than their original pre-surgery baseline tests.
When trial subjects were given EAAs daily starting 1 week before surgery through 2 weeks post surgery (21 total days), muscle atrophy was reduced anywhere from 2x to 4.6x after just 2 weeks post surgery.
After 6 weeks post surgery, patients were tested on 3 physical tests and measured on the time needed to complete each test as compared to their pre-surgery times. The placebo group showed a dramatic decrease averaging around a 40% decline in physical function test results, while the EAA group had improved performance across all physical function tests.
Real People, Real Results
Mary
Health Concerns: Recovery after surgery
Products Using: Heal
Usage:3 scoops Heal
"Heal helped me recover so much faster from my hip replacement surgery. I'm feeling stronger every day and able to walk without pain for the first time in years."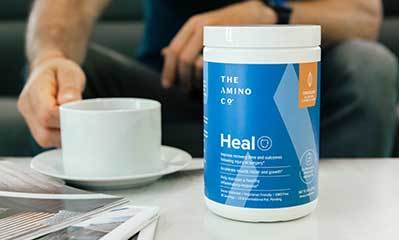 Carl
Health Concerns: Recovery after surgery
Products Using: Heal
Usage:3 scoops Heal
"A nasty knee injury had me down for the count for a month. Heal helped me get back on my feet faster and preserved my muscles while I was recovering. Even though I've fully healed, I still take it. I'm hooked!"
Danny
Health Concerns: Inflammation, exercise recovery
Products Using: Heal
Usage:3 scoops Heal
"I'm a triathlete, and my body takes a hit during training and competition. I take Heal daily to help optimize my inflammation response and recover quickly after intense workouts and races."
Frequently Asked Questions
Amino acids play many vital roles throughout the body and are necessary for nearly every physiological function. They are commonly referred to as the building blocks of protein because they attach to one another in long chains to form different types of protein molecules. These protein molecules have a wide array of functions throughout the body, and trigger many of the most important processes needed to stay healthy and thrive.
I eat lots of high quality protein. Do I need this?
+
Yes! Research has shown that taking an essential amino acid supplement triggers muscle protein synthesis to a clinically significant degree, even in people with high-protein diets. Further, EAA supplements have been tested in people with diets rich in high-quality protein and these people have still seen significant benefits. Remember, our supplements have been shown to stimulate muscle protein synthesis at least 4x more than any protein source on a gram-for-gram basis. Additionally, our free amino acids are rapidly absorbed into the bloodstream, whereas protein from food is broken down and digested much more slowly. This fast-acting, potent burst from EAAs is what gives our supplements proven benefits for all diets.
Do other amino acid companies sell this formula?
+
No! All our products are patented or patent-pending, and we never license or sell our technology to 3rd parties. This way we ensure anything you purchase from us is the best possible quality.
Yes! All Amino Co products use ingredients that are Generally Regarded as Safe (GRAS) by the FDA and have no demonstrated adverse effects. We have not seen any negative side effects reported in over 100 clinical trials on EAAs. Additionally, Amino Co products will not interfere with other supplements you are taking.
What is "Subscribe & Save," and can I cancel it?
+
If you select the "Subscribe & Save" option at checkout, then congratulations! This is a great way to try our products at a lower price, and you can cancel anytime. You will receive an immediate discount that is automatically applied at checkout, and then you will continue to receive your discount every time a new order ships. Every 30 days from your original order date we will ship you a new order that is the same as your original order. Canceling is easy—just call us at 833-264-6620 or email info@aminoco.com with your name, phone number, and order number and we'll take care of the rest.
Can I take multiple Amino Co products together at the same time?
+
Yes! Our product lineup is designed to be taken together, if desired.
Are there any banned substances in these products?
+
No - there are no ingredients banned by the World Anti-Doping Agency (WADA) or any professional sports leagues in our products. Using Amino Co products will not cause a positive test result for performance enhancing drugs.
Still have questions? Our Customer Service team is on hand to assist
you any way they can. Click to contact us!
Stay up to date
Sign up for our newsletter and let us know what you're interested in, and you'll also receive a free E-Book.
30 years of research... and still going.
60 Day
Money back guarantee
The amino guarantee
Give us a try today.
If, for any reason, you don't like us or our products, simply contact our support team within 60 days and we'll happily refund you 100% of your payment.
It's our way of making sure you're completely happy with your purchase.