6 Tasty Muscle Recovery Recipes
By:
by Amino Science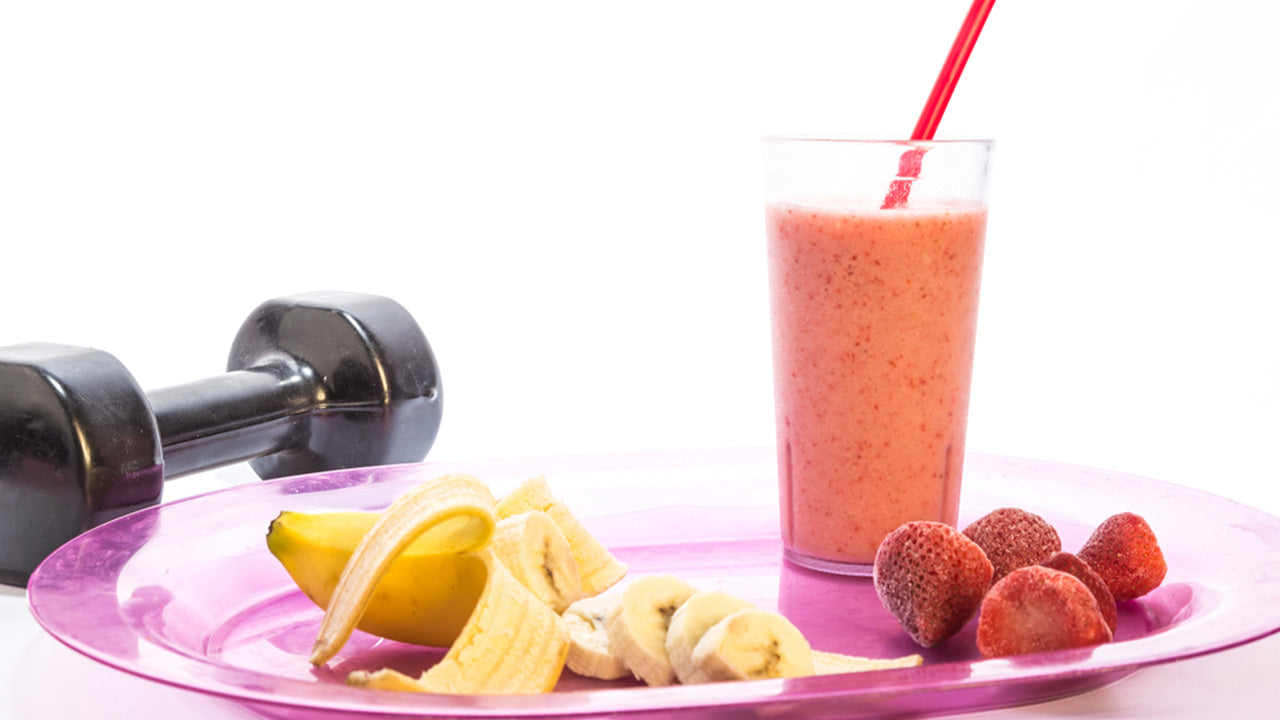 After a tough workout, it's important to refuel with muscle recovery nutrients, like healthy fats, amino acids, and carbs to restock your glycogen stores and keep muscle soreness at bay. These high-protein muscle recovery recipes will accelerate muscle repair so that you can get back to your workouts and take your fitness to new heights.
Post-Workout Recovery Recipes
We've taken the best ingredients of sports nutrition and created 6 post-workout meals, including smoothie recipes, that not only support your muscle-building goals, but also help keep your blood sugar levels balanced and promote weight loss. 
Shrimp Spring Rolls with Peanut Dipping Sauce
Refueling with vitamins and minerals in veggies and the omega-3 fatty acids and 24 grams of protein in shrimp will help boost muscle protein synthesis and reduce post-workout inflammation.
Shrimp Spring Rolls with Peanut Dipping Sauce

🍽️ SERVINGS: 8 rolls   |  🕖 READY IN: 30 minutes

INGREDIENTS

Spring rolls:


2 ounces dried brown rice noodles
8 round brown rice paper wrappers
25 cooked shrimp, halved
1 red bell pepper, sliced into thin strips
1 cucumber
1 ripe avocado, pitted and sliced
1 cup chopped kale
Fresh basil leaves
Fresh mint leaves
1/2 teaspoon sesame oil

Spicy peanut sauce:


1/4 cup peanut butter
1 tablespoon coconut aminos
2 teaspoons maple syrup
1/2 teaspoon ground ginger (or 2 teaspoons fresh grated ginger)
2 teaspoons apple cider vinegar
2-4 tablespoons warm water, to thin dressing
1/2 teaspoon paprika


 INSTRUCTIONS

Sauté spinach with olive oil over medium-high heat for about a minute.
Let's start with the spicy peanut dipping sauce. It's as easy as putting all the ingredients in a food processor and pulsing until smooth. You can thicken or thin the sauce by reducing or adding water.
Now for the shrimp spring rolls. Place your brown rice noodles in a large mixing bowl and submerge them in boiling water. Every couple minutes, stir them around. Once they are tender (no more than 10 minutes), remove them from the hot water and rinse with cold water. Toss with sesame oil to keep them from sticking together.
Line a large platter with a damp paper towel. Soak one brown rice paper in a bowl full of hot water for approximately 15 seconds. Once softened, place on a damp kitchen towel with the textured side facing up.
Leaving about an inch on each side, lay the shrimp halves on the rice paper. Top with a handful of rice noodles, bell pepper, cucumber, avocado, kale, mint, and basil.
To fold, start at the bottom of the wrapper and then fold in the sides. Keeping the folds secure, roll the wrapper from bottom to top. Place on the platter with the seam-side down. Cover with plastic wrap while you're making the rest of the rolls.
Cut spring rolls in half, serve with spicy peanut dipping sauce, and enjoy! 

Chocolately Peppermint Protein Smoothie
This DIY post-workout smoothie substitutes chocolate milk for cashew milk and adds back in the decadent chocolate flavor with cacao nibs and a scoop of  Chocolate Heal. Heal is clinically proven to accelerate muscle repair while helping to maintain a healthy inflammatory response.
Chocolately Peppermint Protein Smoothie

🍽️ SERVINGS: 1   |  🕖 READY IN: 5 minutes

INGREDIENTS

1/4 cup mint leaves
2 tablespoons cacao nibs
1 scoop Chocolate Heal
1 banana
1 cup cashew milk
Dash of peppermint extract
Handful of ice

 INSTRUCTIONS

 Add to a blender or food processor 1/4 cup of tightly packed mint leaves.
In go 2 tablespoons of cacao nibs. Go ahead and have a nibble while you're at it.
Drop in 1 scoop of Amino Co Heal in chocolate flavor.
Follow with 1 banana and 1 cup of cashew milk.
Add in a dash of peppermint extract to preferred taste.
Don't forget a handful of ice to fluff up your peppermint protein smoothie and keep it nice and cold.

Quick and Easy Greek Yogurt Parfait
A part of every nutritionist's muscle recovery meal plan, this yogurt parfait gives you the perfect blend of high-quality protein, carbs, and fats.
Quick and Easy Greek Parfait

🍽️ SERVINGS: 1   |  🕖 READY IN: 5 minutes

INGREDIENTS

1 cup Greek yogurt
1/4 cup blueberries
1/4 cup cranberries
2 teaspoons chia seeds
1/2 cup granola
2 teaspoons honey

 INSTRUCTIONS

 Add the yogurt to a bowl.
Mix in the blueberries, cranberries, chia seeds, and granola.
Drizzle 2 teaspoons of raw honey onto the yogurt. Eat up!

Sweet Potato Quinoa Bowl
This vegan-approved Sweet Potato Quinoa Bowl is doused in muscle recovery nutrients. Quinoa is a complete protein, and chickpeas are almost complete (they are lacking in methionine), so you're feeding your muscle tissues the essential amino acids it needs to rebuild after resistance training.
Sweet Potato Quinoa Bowl

🍽️ SERVINGS: 2   |  🕖 READY IN: 45 minutes

INGREDIENTS

1 sweet potato, cubed
1 teaspoon extra-virgin olive oil
1/2 cup cooked chickpeas
1 cup cooked quinoa
1/2 cup cauliflower
1/3 cup crumbled feta cheese
1/4 cup walnuts, toasted and chopped
2 cups baby spinach
Juice of 1/2 lemon
Pinch of cumin
Pinch of sea salt
Pinch of black pepper

 INSTRUCTIONS

Preheat your oven to 400°F. Line a baking sheet with parchment paper and add the sweet potatoes. Toss with olive oil, cumin, salt, and pepper. Roast until golden brown, approximately 35 minutes.
On a separate sheet, roast the cauliflower for approximately 25 minutes.
Mix the cooked potatoes and cauliflower with the chickpeas, quinoa, feta cheese, walnuts, and baby spinach. Season with lemon juice, salt, and pepper.
Separate into two bowls and serve! 
Avocado and Nut Butter Toast
For a quick and easy muscle recovery recipe nothing tops Avocado and Banana Nut Butter Toast. Enjoy it with a glass of coconut water to hydrate and replenish your electrolytes.
Avocado and Nut Butter Toast

🍽️ SERVINGS: 1   |  🕖 READY IN: 10 minutes

INGREDIENTS

1/2 avocado, sliced
Sesame seeds
Red pepper flakes
Hemp hearts
1/2 banana
2 tablespoons almond butter
Raw honey
2 slices whole grain bread

 INSTRUCTIONS

 Toast your bread.
Spread your nut butter on the toast.
Top with avocado slices, seasoning with sesame seeds, red pepper flakes, and hemp hearts.
Top with banana and drizzle on the honey. 

The Ultimate Post- Workout Recovery Smoothie
This superfood protein shake features the ultimate protein powder. Heal is over 3 times more efficient at triggering muscle growth and repair than any other protein source.
The Ultimate Post- Workout Recovery Smoothie

🍽️ SERVINGS: 1   |  🕖 READY IN: 5 minutes

INGREDIENTS

1/2 cup almond milk
1/2 cup watermelon
1 scoop

 

Grape Heal
1 banana
1/2 teaspoon turmeric
1/2 teaspoon ground flax seeds

 INSTRUCTIONS

Add the almond milk to your blender.
Follow it up with watermelon and a scoop of Heal.
Sweeten it further with banana, and then add anti-inflammatory ingredients like turmeric and flax seeds to combat muscle soreness.
Blend and drink 1 hour post-workout.