A high proportion of leucine is required for optimal stimulation of the rate of muscle protein synthesis by essential amino acids in the elderly
Overview
As we grow older, muscle mass declines, but targeted nutrition in the form of amino acids has shown great promise as a would-be fountain of youth. The essential amino acids regulate muscle protein synthesis, and research suggests that leucine plays an especially important role.
While we know that essential amino acids stimulate muscle protein synthesis, we've also seen that the anabolic effects shown in young people aren't as pronounced in elderly individuals. Researchers theorize that aging muscle just isn't as responsive to the stimulatory effects of leucine.
Animal studies have shown that when extra leucine is added to essential amino acid mixtures, muscle protein synthesis increases. Could added leucine have the same benefit for the elderly population?
Trial Length
Acute metabolic study
Age Range
Elderly subjects: 64 - 68; Young subjects: 28 - 32
The Goal
To determine if an essential amino acid mixture enriched with leucine could stimulate muscle protein synthesis in both young and older individuals.
The Results
Scientists separated 36 subjects into two groups of elderly and young. Each group received 6.7 grams of essential amino acids, some with the composition of whey protein with 26% leucine and others enriched with 41% leucine.
Muscle protein synthesis and balance improved in young participants regardless of the composition of leucine, but only improved in elderly subjects taking the essential amino acid mixture made up of 41% leucine, which suggests that extra leucine helps to stimulate muscle protein synthesis in older adults.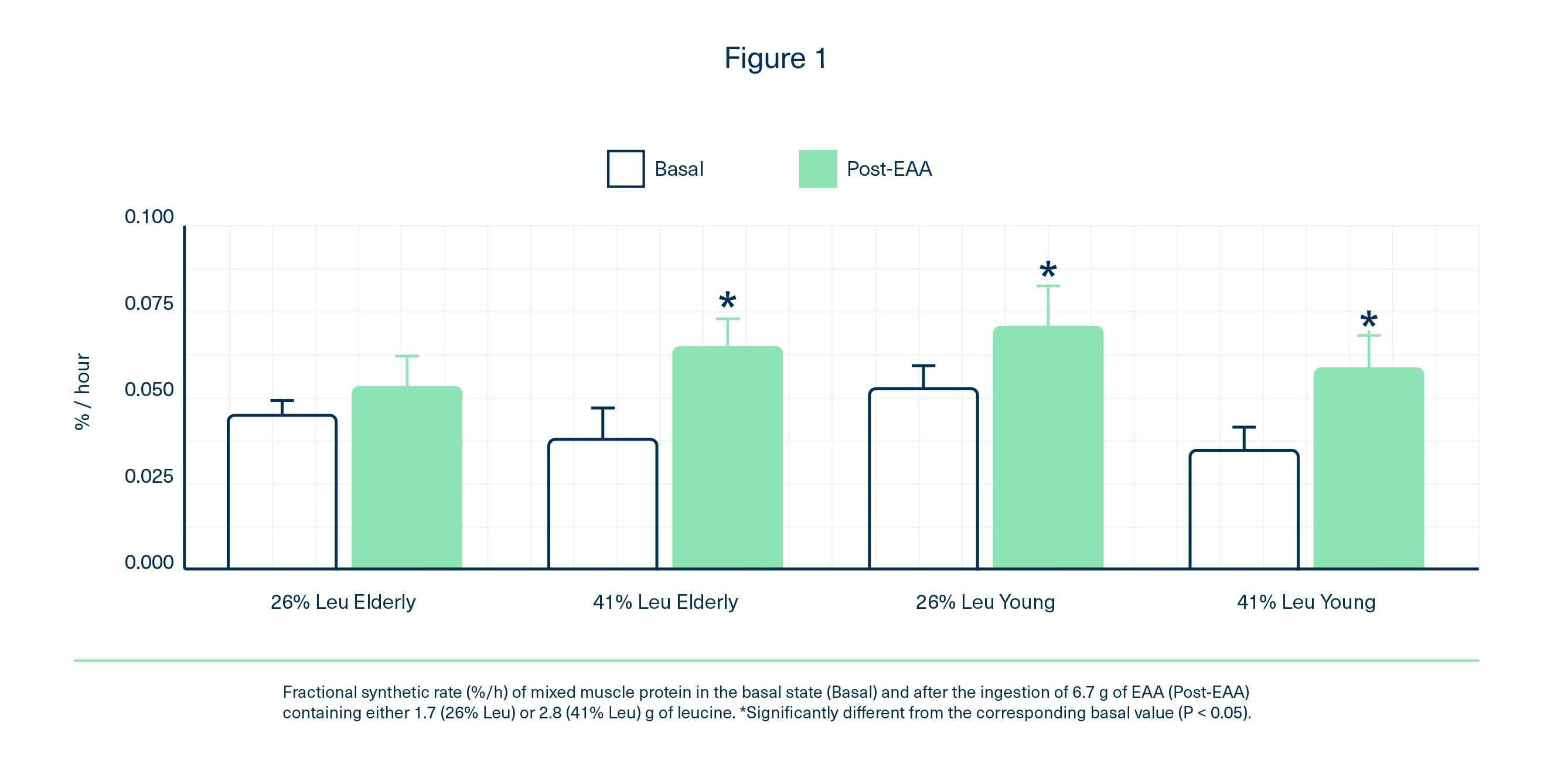 Conclusion
Researchers determined that increasing the amount of leucine in an essential amino acid formula improves muscle protein synthesis and balance in older adults, but does not lead to additional anabolic gains in younger individuals.
Leucine's lack of effect on the young
While added leucine had a pronounced stimulatory effect on aging muscle, it did not show increased benefit for younger participants. Researchers suspect that the basal leucine concentration is sufficient to activate muscle protein synthesis or that the increased leucine decreased the availability of other essential amino acids.
The Why?
Muscle mass is a primary predictor of mortality and morbidity in older adults or individuals battling critical illness. This is the first study to show that a precisely formulated essential amino acid mixture enriched with leucine can help stimulate muscle protein synthesis in older adults, a response that has been blunted with other nutritional interventions.
Citation
Katsanos CS, Kobayashi H, Sheffield-Moore M, Aarsland A, Wolfe RR. A high proportion of leucine is required for optimal stimulation of the rate of muscle protein synthesis by essential amino acids in the elderly. Am J Physiol Endocrinol Metab. 2006;291(2):E381-E387. doi:10.1152/ajpendo.00488.2005