Activation of mTORC1 by leucine is potentiated by branched-chain amino acids and even more so by essential amino acids following resistance exercise
Overview
It is a well-known fact that resistance exercise stimulates muscle protein synthesis, which in turn builds muscles. We also know that when essential amino acids (EAAs) are taken with resistance exercise, muscle protein synthesis is promoted to an even greater degree. Scientists attribute this anabolic effect to the EAA leucine, which is also a branched-chain amino acid (BCAA) that stimulates mTORC1 signaling and protein synthesis. Studies show that leucine in combination with the other EAAs has the most potent impact; however, prior to this study how much of this impact could be attributed to BCAAs remained unknown.
Trial Length
Acute metabolic study
The Goal
To determine if BCAAs have a greater effect on mTORC1 signaling and protein synthesis than EAAs or leucine alone when taken after resistance exercise. Phosphorylation of components in the mTORC1 pathway—S6K1 kinase activity, the interaction between 4E-BP1 and eIF4E, and muscle protein fractional synthetic rate were determined. It was postulated that BCAAs and EAAs would exert the greatest stimulus on mTORC1 signaling and muscle protein fractional synthetic rate.
The Results
Researchers discovered that ingestion of EAAs activated S6K1 kinase and 4E-BP1 phosphorylation activity to a greater degree than ingestion of BCAAs did, and that leucine had the least impact. See figure 1 below.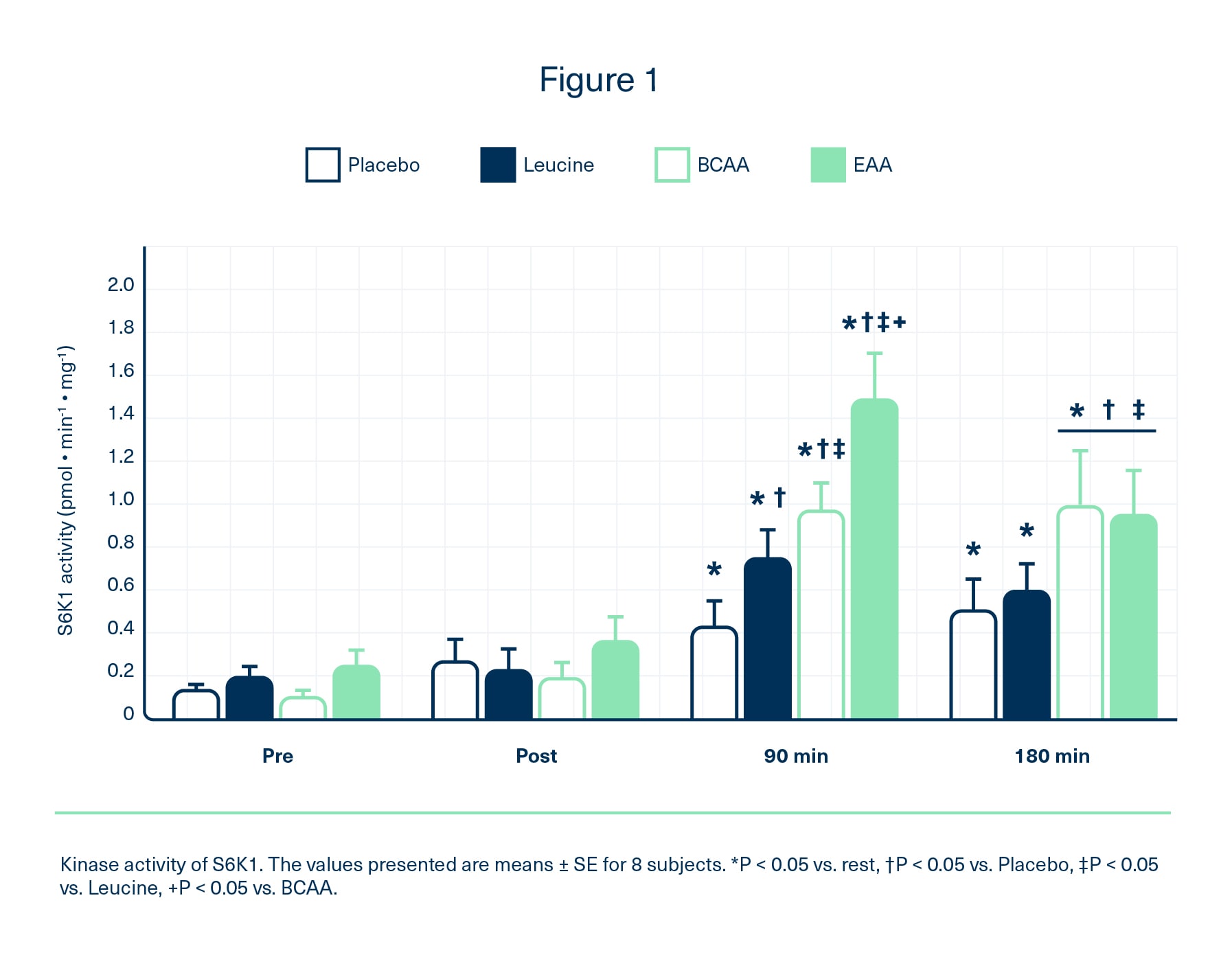 Conclusion
Supplementing with EAAs stimulates mTORC1 signaling and muscle protein synthesis to a greater extent than supplementing with BCAAs or the single amino acid leucine.
The Why?
Your muscles act as your reservoir for amino acids. When essential amino acid stores get low, your body gets its needs met by your muscles' supply. Essentially, muscle is more than vanity. Muscle is your protector in times of illness and stress. Which means its imperative to develop targeted supplements that can help maximize the muscle-building efforts of your resistance training workouts.
Supplementing with a full host of EAAs, rather than the BCAAs alone as so many weight lifters are prone to do, can help stimulate muscle protein synthesis to the maximum when taken after a workout.
Citation
Moberg M, Apró W, Ekblom B, van Hall G, Holmberg HC, Blomstrand E. Activation of mTORC1 by leucine is potentiated by branched-chain amino acids and even more so by essential amino acids following resistance exercise. Am J Physiol Cell Physiol. 2016;310(11):C874-C884. doi:10.1152/ajpcell.00374.2015