Comprehensive effects of supplemented essential amino acids in patients with severe COPD and sarcopenia.
Overview
Chronic obstructive pulmonary disease (COPD) is a chronic inflammatory lung disease that affects more than 11 million people in America alone—primarily the elderly—and is the third leading cause of death. Sarcopenia is the loss of muscle tissue that occurs as part of the aging process and is accelerated in patients with COPD. This accelerated skeletal muscle wasting greatly impacts quality of life and functioning, from an impaired ability to exercise to lower risk of survival. For this reason, understanding the mechanisms of muscle wasting in COPD patients as well as therapeutics that could help offset this muscle loss is imperative.
The Goal
Researchers set out to determine if taking essential amino acids orally could improve body composition, muscle metabolism, physical activity levels, brain function, and health outcomes in older patients with severe chronic obstructive pulmonary disease (COPD) and sarcopenia.
The Results
Patients were randomized into two groups and took either 4 grams of essential amino acids or a placebo for 12 weeks. Researchers monitored body weight, fat free-mass (FFM), plasma lactate concentration (μmol/l), arterial PaCO and PaO, physical activity levels, and cognitive function.
Unlike placebo patients, patients supplemented with essential amino acids improved in all of the above as demonstrated by the figures below.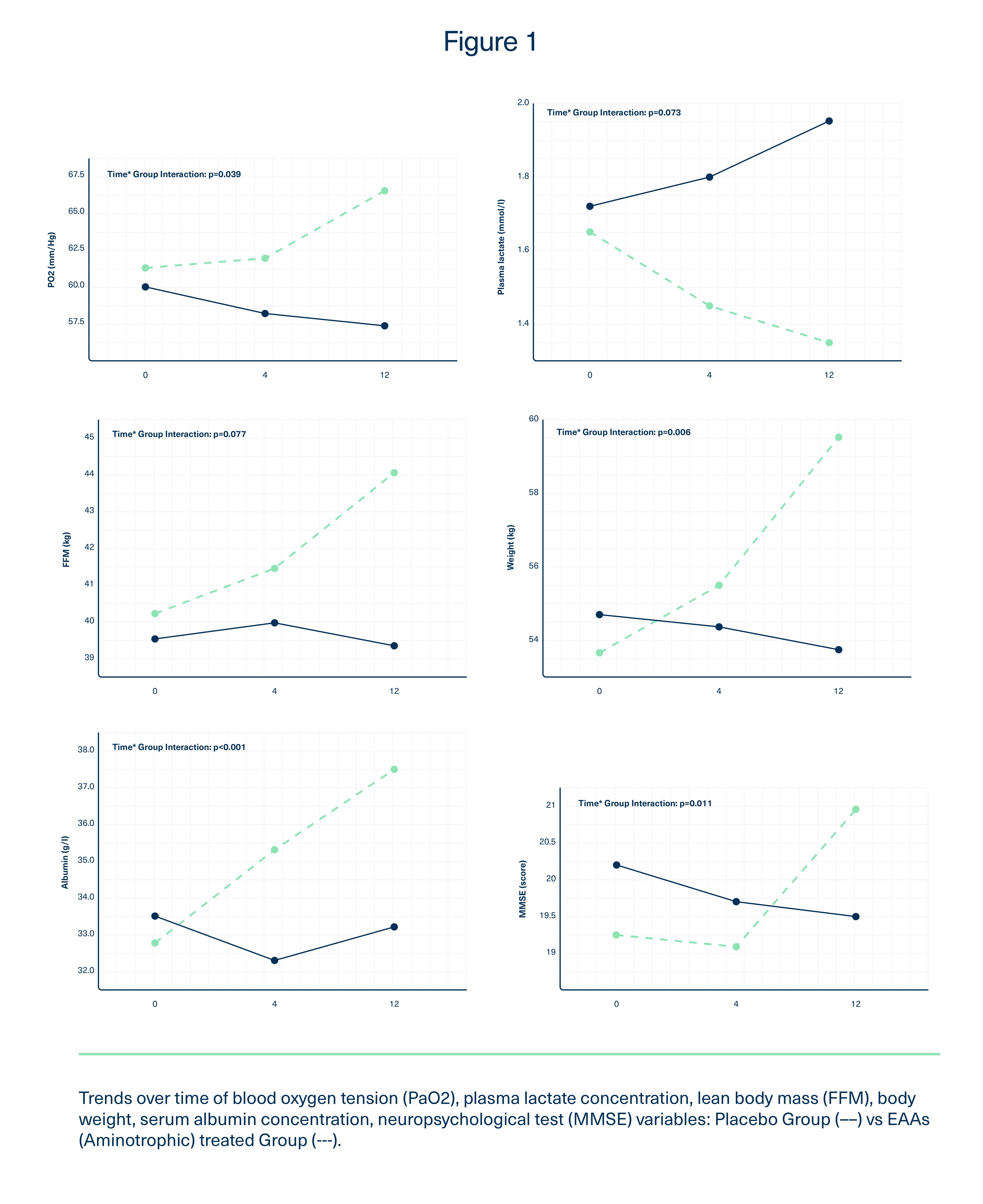 Conclusion
Researchers determined that supplementing with essential amino acids daily for 3 months can greatly benefit COPD patients with secondary sarcopenia by improving health status, muscle energy metabolism, blood oxygen tension, physical independence, and cognitive function.
The Why?
Chronic obstructive pulmonary disease (COPD) is the third leading cause of death in the world. A targeted formula of essential amino acids has the potential to greatly improve the health status and physical and mental functionality of patients with COPD, particularly in conjunction with integrated rehabilitation.
Citation
Dal Negro RW, Aquilani R, Bertacco S, Boschi F, Micheletto C, Tognella S. Comprehensive effects of supplemented essential amino acids in patients with severe COPD and sarcopenia. Monaldi Arch Chest Dis. 2010;73(1):25-33. doi:10.4081/monaldi.2010.310