Effect of Amino Acid Supplementation on Muscle Mass, Strength and Physical Function in Elderly
Overview
Aging is associated with a decrease in muscle mass, strength, and function that can have adverse effects on health and quality of life. One of the causes of reduced muscle mass may be insufficient dietary intake of protein, which is comprised of amino acids. Amino acids have been shown to boost muscle mass and strength in individuals of all ages. Therefore, taking a nutritional supplement of amino acids may be a worthwhile strategy for improving muscle mass and strength in the elderly.
The Goal
To investigate if daily supplementation with essential amino acids (EAAs) and arginine could reverse the loss of muscle mass, strength, and function in elderly participants.
The Results
Researchers tracked the effects of a daily dose of 11 grams of EAAs on glucose intolerant subjects for 16 weeks with no changes to diet or physical activity. Because the muscle-stimulating effects of amino acids are subdued in cases of insulin resistance, patients with glucose intolerance made the ideal test subjects. If benefit was shown in those instances, then people with normal insulin insensitivity would be expected to benefit to an even greater degree.
Results demonstrate that supplementing with EAAs and arginine improves lean body mass, muscle strength, and physical function.
Figure 1 shows the improvements to body composition at baseline, and after 4, 8, 12, and 16 weeks of amino acid supplementation.
In addition to improvements in gait speed and a timed 5-step test and timed floor-transfer test, leg strength increased by as much as 28%.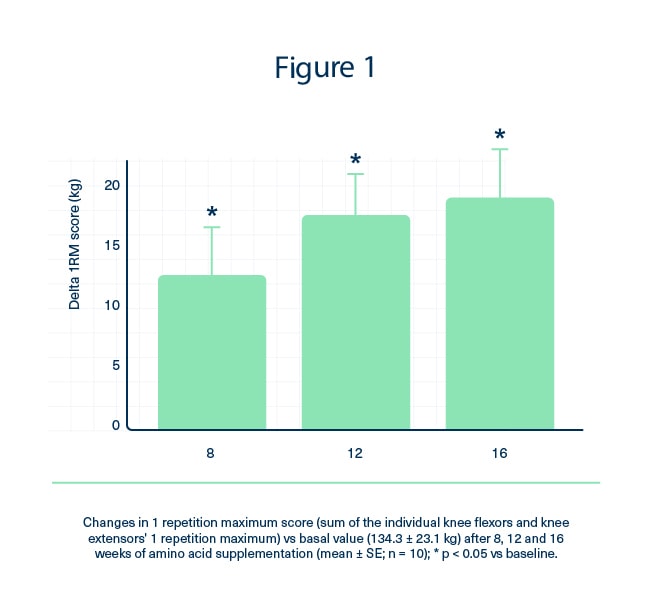 Conclusion
The results of this study found that ingesting an EAA supplement + arginine between meals increased lean body mass, muscle strength, and physical function in glucose intolerant elderly subjects.
The role of leucine in protein synthesis
Leucine made up the highest percentage of the EAA formulation used due to its unique role in muscle protein synthesis. Leucine can activate initiation factors that speed up protein synthesis, which has maximum effect in the elderly who experience a decreased response to these initiation factors.
The role of arginine in protein synthesis
In times of stress, illness, or injury, the body may not make enough arginine to meet demands, which is why researchers added arginine to the formulation of EAAs. Like leucine, arginine stimulates initiation factors that accelerate protein synthesis.
The Why?
Muscle plays a critical role in our health as we age. Muscle helps regulate amino acid and blood sugar levels, supports bone health, and is also associated with longevity and improved health outcomes in a number of medical conditions.
Amino acids make up the muscles that keep us strong, healthy, and protected as we age. Some of the amino acids that make up muscle are not produced in the body (the essential amino acids), and must be obtained through the diet. Giving our muscles the essential amino acids they need to maintain strength, mass, and function is imperative to improved quality of life and increased life span.
Citation
Børsheim E, Bui QU, Tissier S, Kobayashi H, Ferrando AA, Wolfe RR. Effect of amino acid supplementation on muscle mass, strength and physical function in elderly. Clin Nutr. 2008;27(2):189-195. doi:10.1016/j.clnu.2008.01.001