Essential amino acid supplementation in patients following total knee arthroplasty
Overview
An estimated 3.5 million older Americans will undergo total knee arthroplasty (TKA) by the year 2030. The resulting muscle atrophy and weakness impair functional mobility, compromise balance, and lead to a greater likelihood of falls. Improving postoperative function early on has been shown in a recent study to lead to speedier functional recovery and improved rehabilitation outcomes. Essential amino acids (EAAs) have been found to protect against muscle loss during illness and injury, a benefit that may be of great use to patients after a total knee replacement.
The Goal
To test the hypothesis that supplementing with essential amino acids (EAAs) can help lessen the degree of muscle atrophy and help restore functional mobility after total knee arthroplasty (TKA). Researchers measured alterations in muscle volume and functional mobility to determine the effects of 20 grams of EAAs taken twice a day for 1 week before and for 2 weeks after surgery.
The Results
Participants taking EAAs had far less quadriceps muscle atrophy than did participants taking a placebo. EAAs also helped mitigate muscle atrophy in the nonoperated quadriceps, as well as the hamstring and adductor muscles of both legs.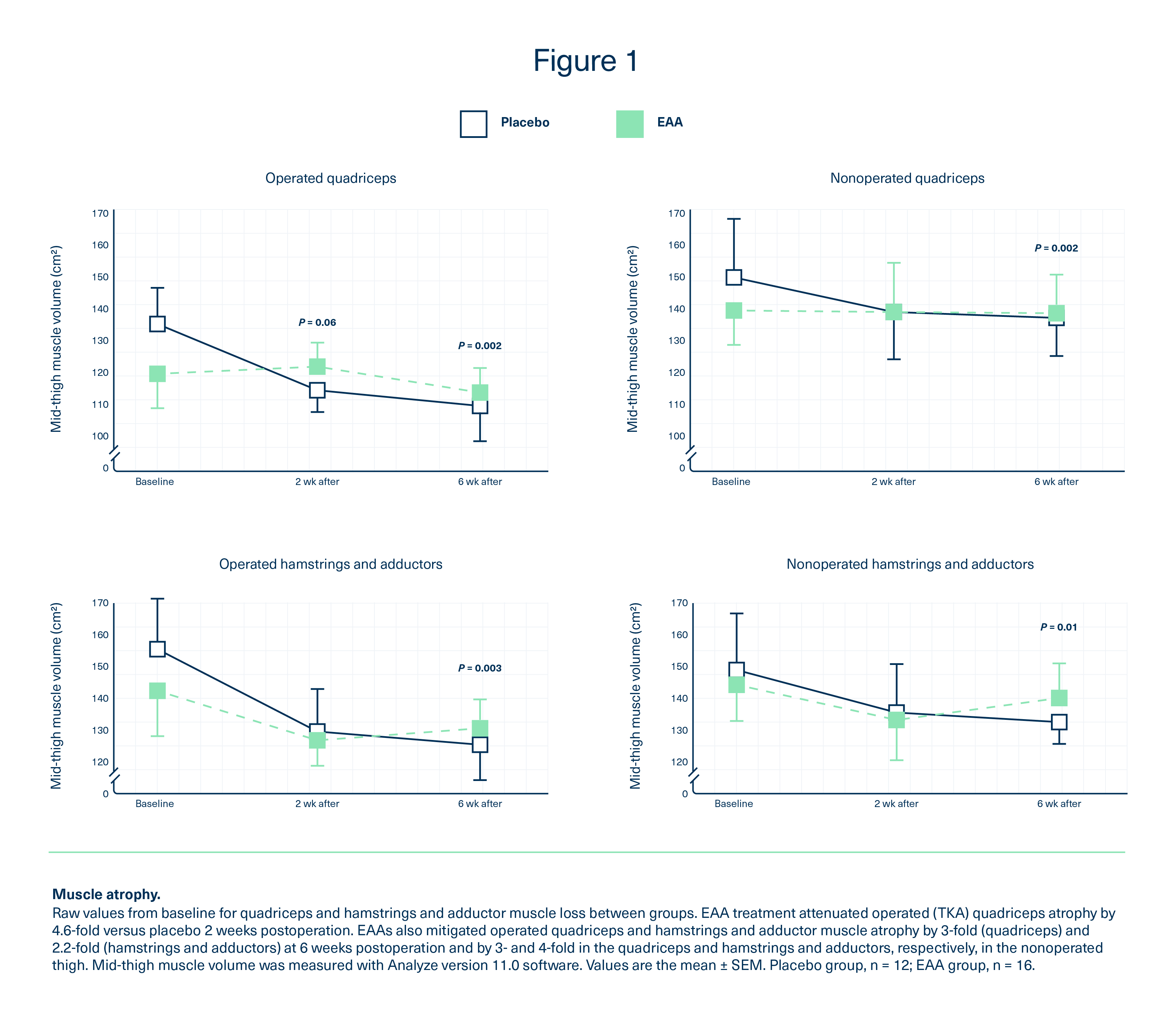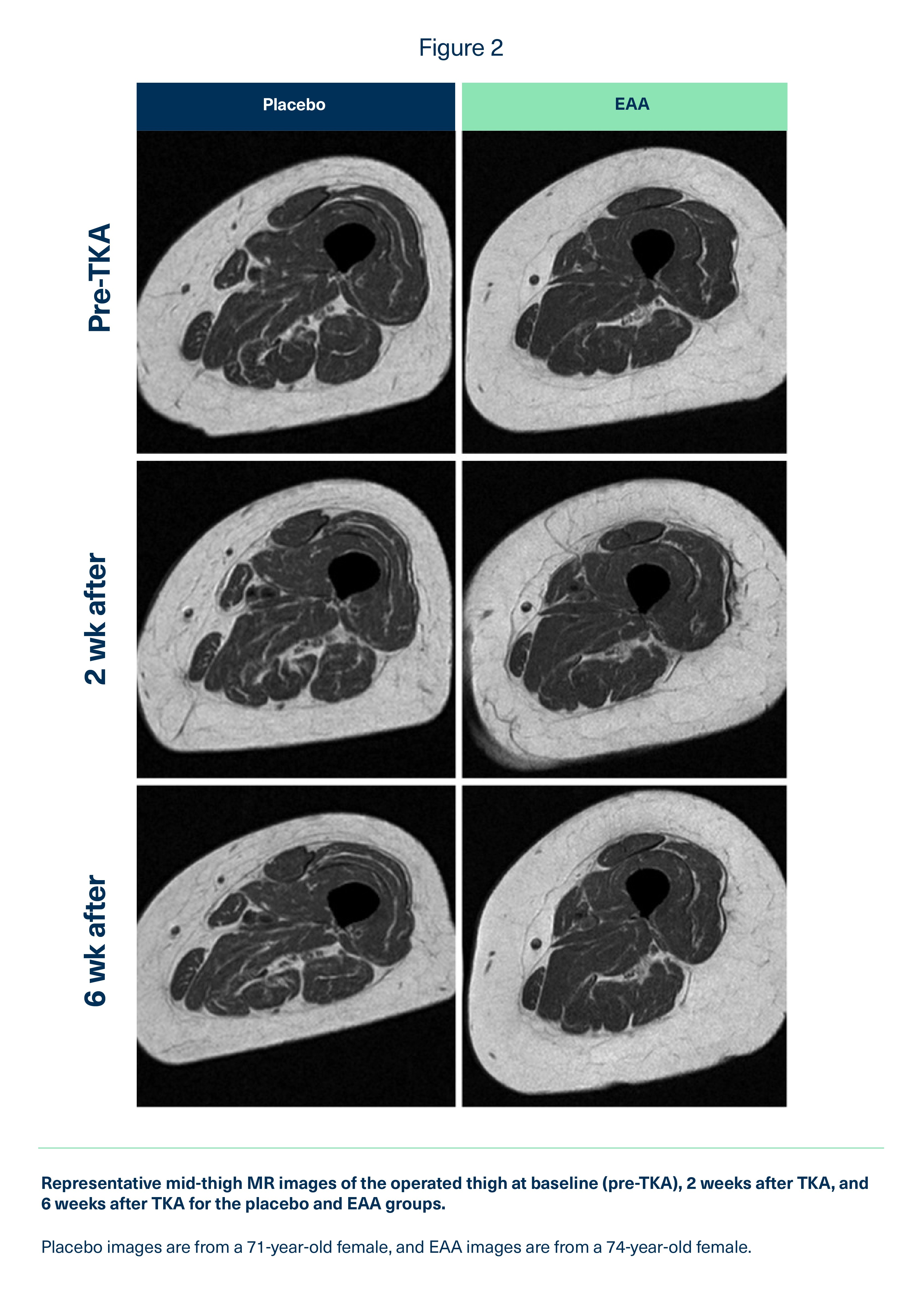 The EAA group also performed better 2 weeks and 6 weeks post surgery on functional mobility tests.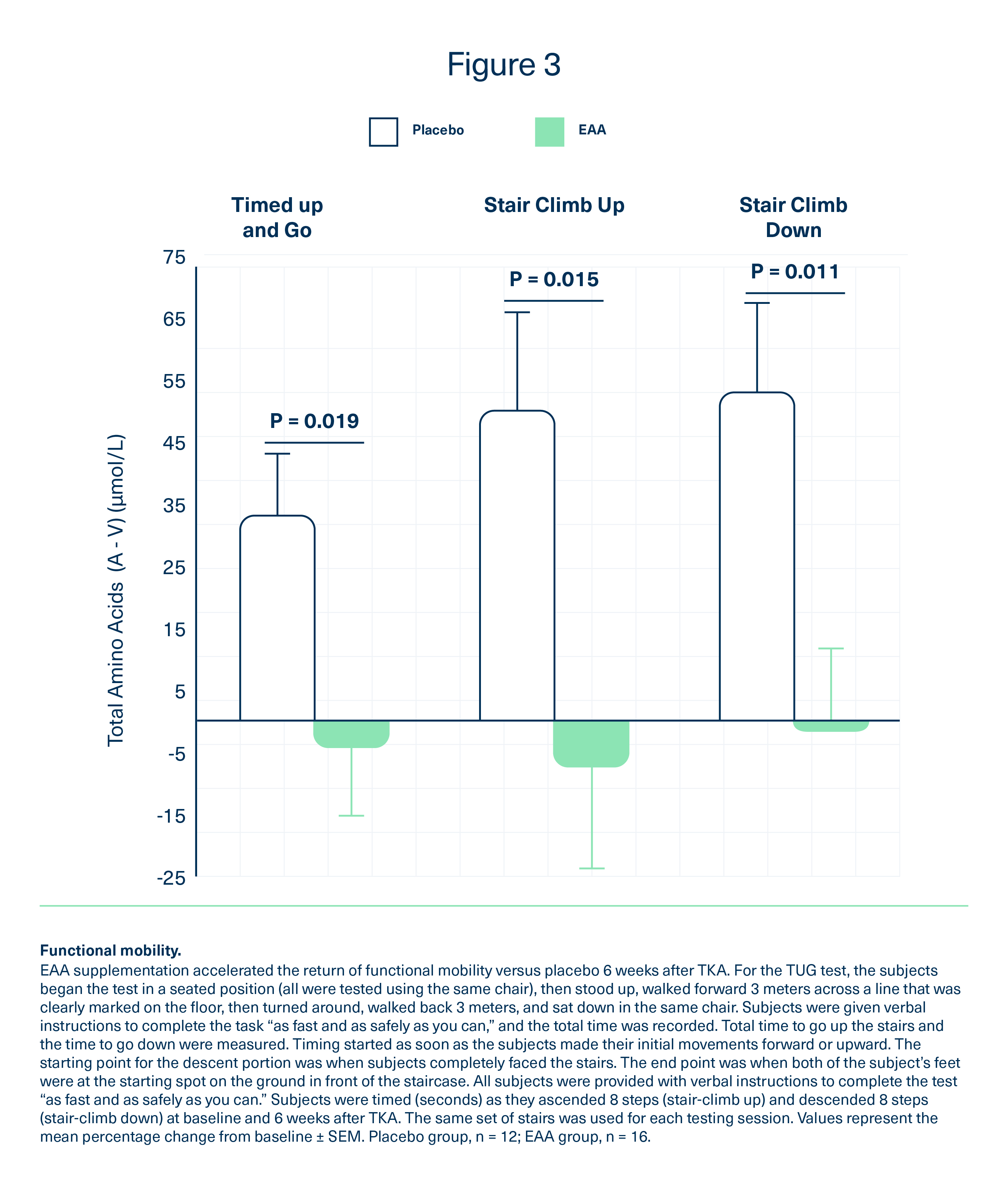 The Conclusion
Twice-daily ingestion of 20 grams of EAAs prior to and following total knee replacement surgery lessened muscle atrophy and increased functional mobility in older adults. Researchers conclude that supplementing with EAAs before and after surgery may improve patient rehabilitation outcomes.
The Why?
The acute muscle atrophy and weakness that accompany total knee arthroplasty can worsen the effects of sarcopenia, or age-related muscle loss, in older adults. Developing nutritional therapies to help counter quadriceps-specific muscle atrophy and weakness can help accelerate recovery and improve quality of life for millions of older adults after TKA.
Citation
Dreyer HC, Strycker LA, Senesac HA, Hocker AD, Smolkowski K, Shah SN, Jewett BA. Essential amino acid supplementation in patients following total knee arthroplasty. J Clin Invest. 2013 Nov;123(11):4654-66. doi: 10.1172/JCI70160. Epub 2013 Oct 25. PMID:24135139.