Consumption of a Specially-Formulated Mixture of Essential Amino Acids Promotes Gain in Whole-Body Protein to a Greater Extent than a Complete Meal Replacement in Older Women with Heart Failure
Overview
Heart failure leads to a decline in muscle mass and strength that is made worse by a reduced response to the anabolic (muscle-building) effects of dietary protein. Nutritional interventions that could contribute to muscle gain without adding unnecessary calories are desirable, as many heart failure patients are also obese. A formula containing free amino acids and minimal calories may be a preferred alternative to complete protein meal replacements designed to build and maintain lean muscle mass in heart failure patients.
Trial Length
Acute metabolic study
The Goal
Researchers examined the anabolic effects of a specially-formulated mixture of essential amino acids (HiEAAs) compared to those of a commercially popular protein-based meal replacement beverage (Ensure Active Heart Health, LoEAA) on women with heart failure. They hypothesized that the HiEAA mixture would lead to greater gains in whole body net-protein balance without making a high-calorie impact, unlike the LoEAA beverage.
The Results
Both beverages stimulated an anabolic response in heart failure patients, but the muscle-building effects of the EAA-based beverage was 2.5 times greater than those of the commercially popular beverage. The benefit of the EAA-based beverage was even greater if account was taken of caloric intake. It appears that EAAs were able to decrease muscle protein breakdown significantly more than Ensure Heart Health, and also demonstrated a greater increase in protein synthesis.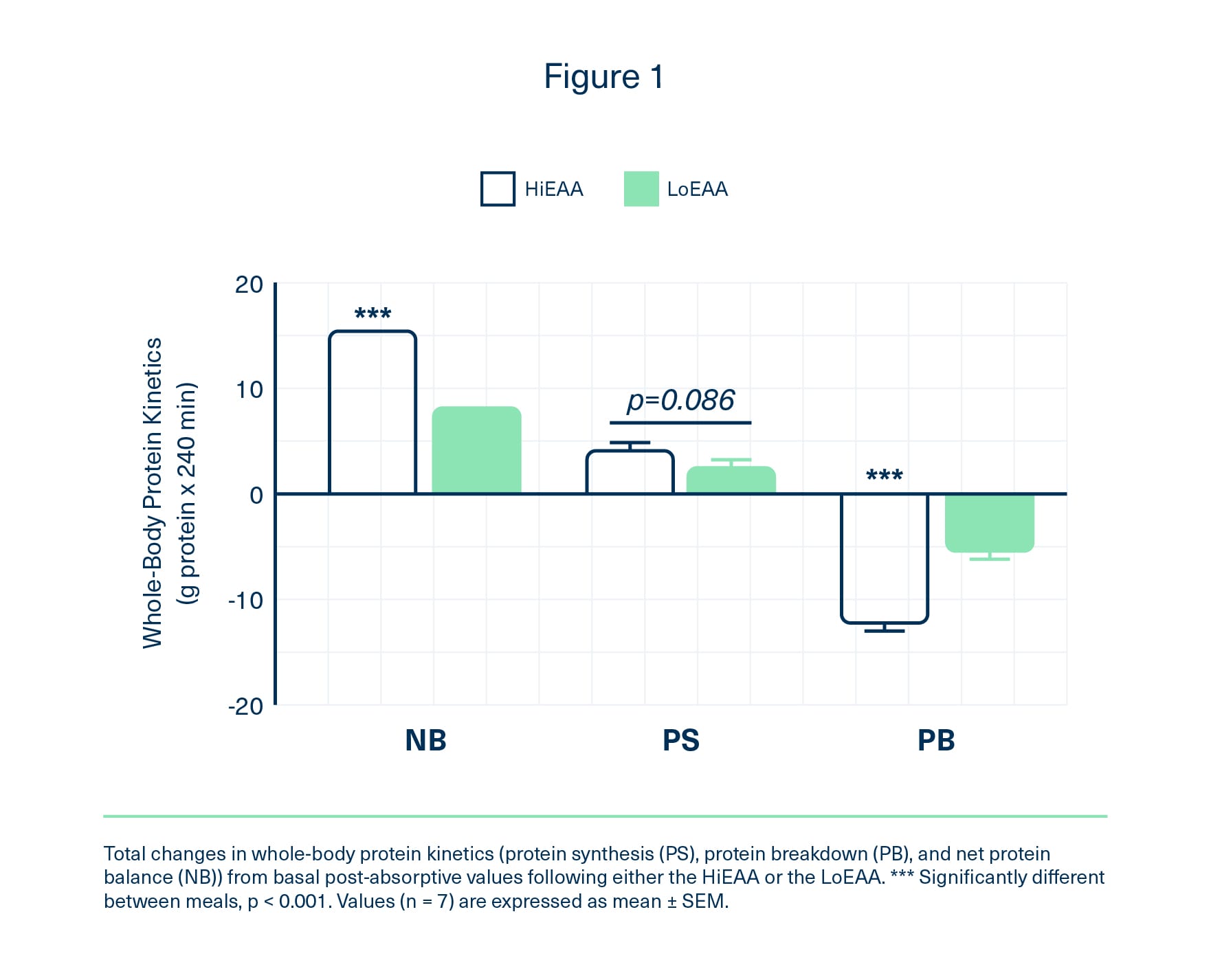 Conclusion
Researchers determined that a precisely formulated EAA supplement can produce a greater anabolic response in heart failure patients than a protein-based meal replacement such as Ensure Heart Health. The minimal calories in an EAA supplement is ideal, since heart failure is commonly accompanied by obesity.
The Why?
Heart failure is a life-threatening condition faced by 6%–10% of men and women over the age of 65 worldwide. The first year post diagnosis puts risk of death at 35%, with a 10% risk every year thereafter. Developing nutritional supplements that can help build and maintain muscle mass without adding to calories and fat mass is imperative, as muscle health is a predictor of mortality. An expertly formulated essential amino acid supplement has proven effective at suppressing muscle protein breakdown and stimulating muscle protein synthesis in heart failure patients.
Citation
Kim IY, Park S, Smeets ETHC, et al. Consumption of a Specially-Formulated Mixture of Essential Amino Acids Promotes Gain in Whole-Body Protein to a Greater Extent than a Complete Meal Replacement in Older Women with Heart Failure. Nutrients. 2019;11(6):1360. Published 2019 Jun 17. doi:10.3390/nu11061360