Nutritional Supplementation with Essential Amino Acids and Phytosterols May Reduce Risk for Metabolic Syndrome and Cardiovascular Disease in Overweight Individuals with Mild Hyperlipidemia
Overview
Hyperlipidemia (high LDL cholesterol and triglycerides) and insulin resistance increase the risk of developing heart disease and metabolic syndrome. In previous studies, researchers showed that supplementing with essential amino acids lowered LDL cholesterol levels and improved blood sugar levels. Phytosterols may amplify the beneficial effects of essential amino acids on plasma lipids.
The Goal
To assess the effectiveness of an essential amino acid formulation high in leucine combined with phytosterols on cholesterol levels and insulin sensitivity in adults with mild hypertriglyceridemia (elevated triglyceride levels in the bloodstream).
The Results
The study's nine participants were given an oral glucose tolerance test (OGTT) before and 4 weeks after supplementation. All nine experienced reductions in total and LDL cholesterol levels. Triglyceride levels declined in six of the participants, and all saw improvements in insulin sensitivity and blood sugar levels.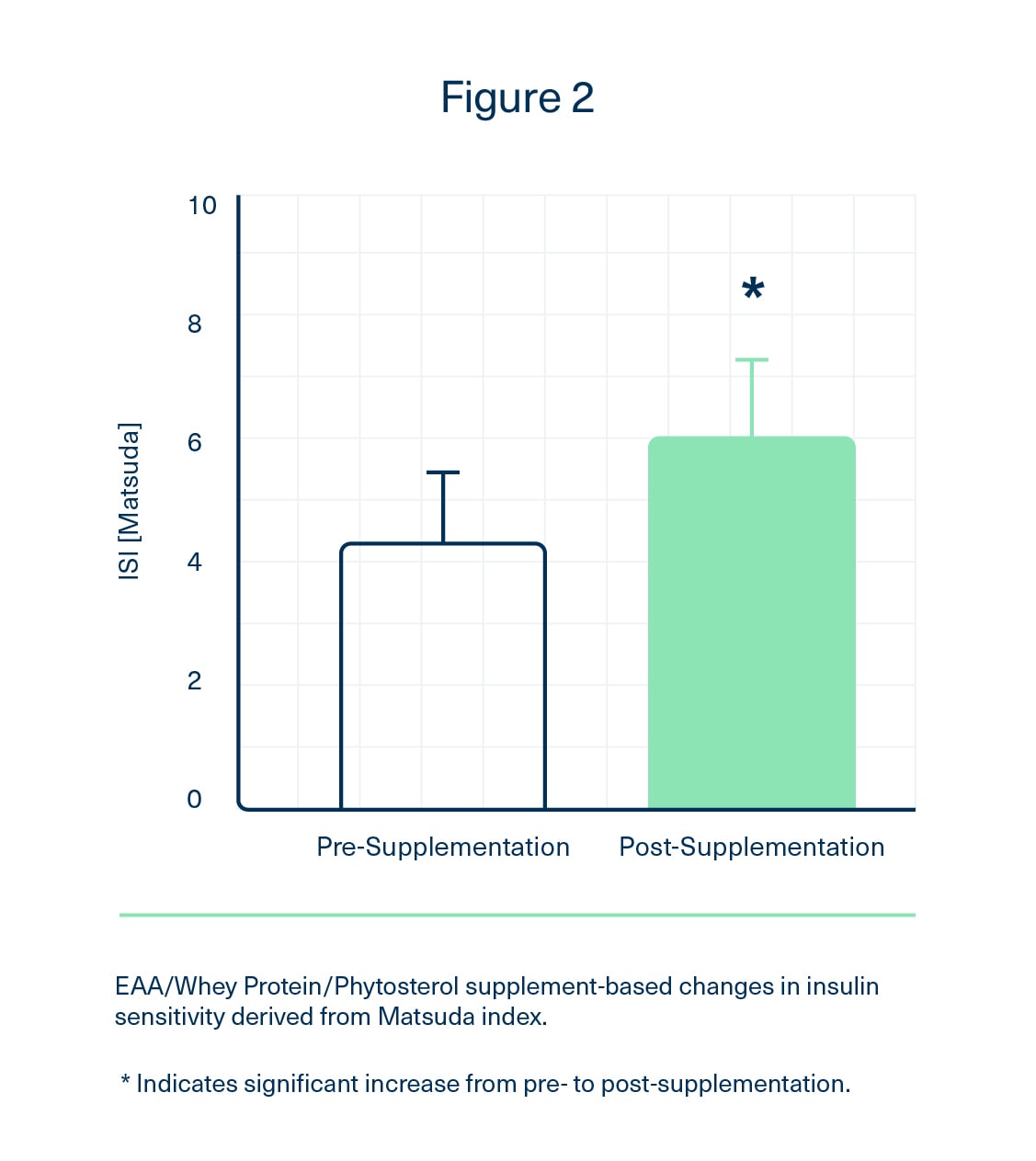 Conclusion
Results show that an essential amino acid supplement with phytosterols can favorably reduce insulin resistance and LDL cholesterol levels in people with elevated triglycerides.
Single nucleotide polymorphisms of select genes
Triglyceride levels decreased dramatically in six of the nine participants. Genotyping showed that two of the three participants who didn't have a reduction in triglycerides had a single T allele of the SNP rs1260326, which has been linked to elevated triglycerides, providing a potential genetic explanation for a lack of response to the nutritional supplement.
The Why?
The three primary markers of metabolic disease are elevated triglycerides and LDL cholesterol, reduced insulin sensitivity, and high blood pressure. Pharmaceuticals designed to decrease triglycerides come with side effects as severe as liver damage. Supplementation with essential amino acids comprised of a high leucine component and phytosterols 3 times a day for just 4 weeks appears to substantially reduce risk factors for metabolic syndrome and heart disease.
Citation
Coker RH, Deutz NE, Schutzler S, et al. Nutritional Supplementation with Essential Amino Acids and Phytosterols May Reduce Risk for Metabolic Syndrome and Cardiovascular Disease in Overweight Individuals with Mild Hyperlipidemia. J Endocrinol Diabetes Obes. 2015;3(2):1069.