High anabolic potential of essential amino acid mixtures in advanced nonsmall cell lung cancer
Overview
Involuntary weight loss and skeletal muscle wasting characterize nonsmall cell lung cancer (NSCLC) and reduce the likelihood of recovery and survival. Consuming enough protein to help protect against muscle loss is challenging for patients, as appetite and ability to ingest protein-containing foods are compromised.
Essential amino acid supplements have been shown to prevent muscle wasting in clinically ill populations with reduced appetite; however, there are no previous studies evaluating the stimulatory effects of essential amino acids on patients with advanced cancer.
The Goal
To determine whether a mixture of free amino acids could stimulate protein synthesis in cancer patients to the same extent as in healthy control subjects and whether the effect was independent of muscle loss, weight loss, chronic inflammation, or survival rate. Researchers also compared the anabolic properties of an essential amino acid supplement compared to a supplement made up of both essential amino acids and nonessential amino acids in the same profile as in whey protein.
The Results
Researchers gave 13 patients with advanced nonsmall cell lung cancer (NSCLC) (stage III and IV)I and 11 healthy age-matched subjects either 14 grams of free essential amino acids (EAAs) with high leucine content or a mixture of EAAs and nonessential amino acids (NEAAs) in the profile of whey protein.
Results showed that the EAA mixture had a greater effect on protein synthesis and net protein anabolism and that the effect was not influenced by the presence of cancer or its associated conditions—recent weight loss, systemic inflammation, or length of survival. Findings also indicate that EAA intake did not reach a plateau, which suggests that more than 14 grams of EAAs may provide further benefit to advanced cancer patients.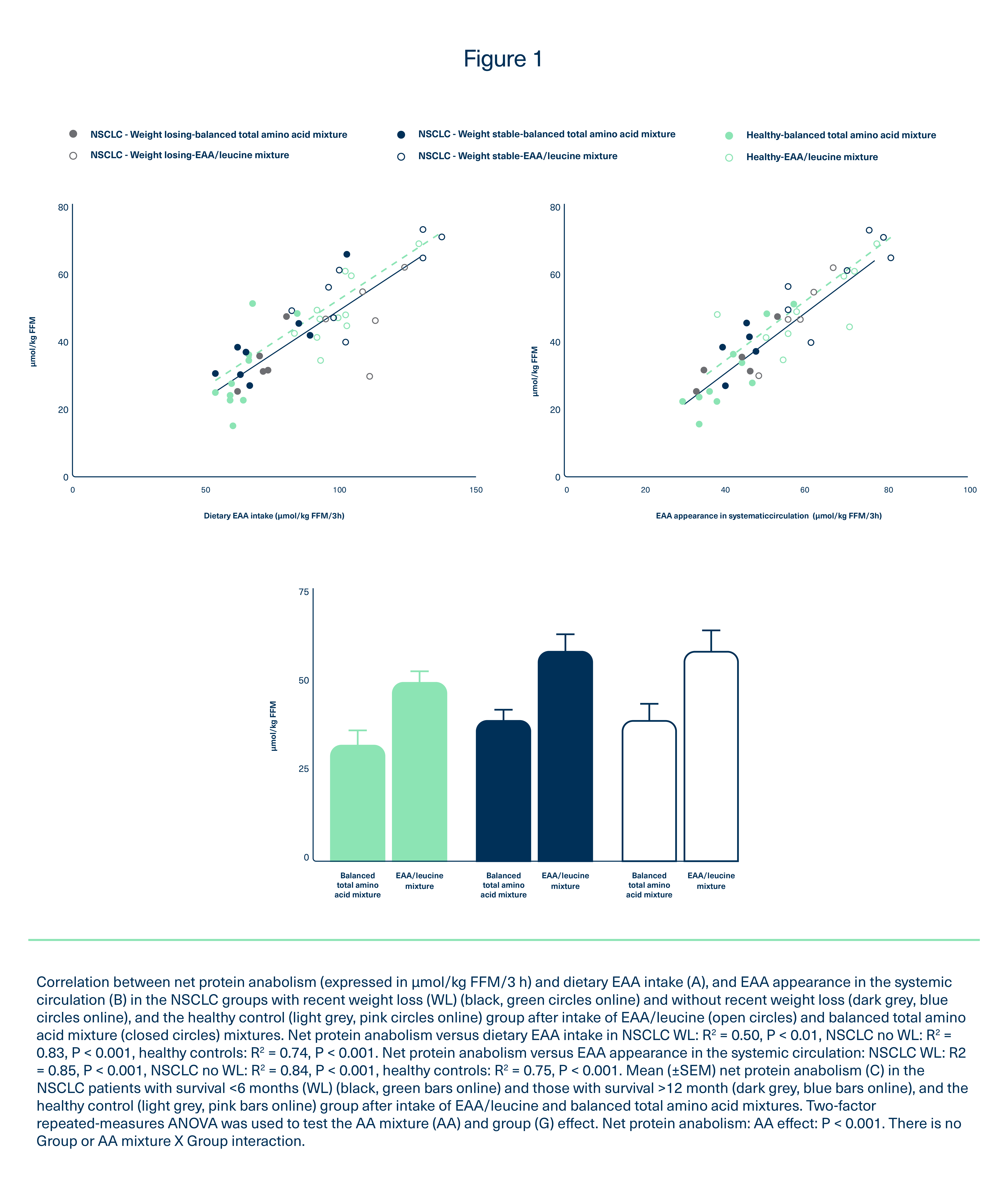 Conclusion
Advanced cancer patients show no propensity toward anabolic resistance when treated with 14 grams of free EAAs or a whey protein supplement made up of EAAs and NEAAs. The ability of EAAs to stimulate muscle protein synthesis is independent of nutritional status, systemic inflammation, or disease progression, which indicates that EAAs may provide targeted nutritional support to help protect against muscle loss and improve the outcome of patients with advanced cancer.
The Why?
Developing nutritional therapies to protect against the muscle wasting that occurs with advanced cancer is crucial if clinical and overall outcomes are to be improved. The significant anabolic response to EAA ingestion seen in advanced cancer patients, independent of weight loss, systemic inflammation, or disease trajectory, supports the use of a nutritional protocol using essential amino acids that can help prevent and treat muscle wasting in advanced cancer patients, thereby improving both quality of life and recovery outcomes.
Citation
Engelen MP, Safar AM, Bartter T, Koeman F, Deutz NE. High anabolic potential of essential amino acid mixtures in advanced nonsmall cell lung cancer. Ann Oncol. 2015 Sep;26(9):1960-6. doi: 10.1093/annonc/mdv271. Epub 2015 Jun 25. PMID:26113648