Increased Nitrogen Intake Following Hip Arthroplasty Expedites Muscle Strength Recovery
Overview
Total hip arthroplasty (THA) is often recommended as the final treatment to correct mobility dysfunction that has occured due to osteoarthritis or other chronic diseases. Unfortunately, outcomes for THA patients are bleak, as they are 2 to 10 times more likely to still be battling mobility issues and impairment 2 years after surgery compared to a non-surgical population. Loss of muscle strength and function after surgery is expected, but if left untreated this muscle loss can greatly limit recovery and impair long-term functionality. Prior research has shown that supplementation with essential amino acids (EAAs) can greatly improve muscle strength and functional gains in older adults, as EAAs can increase nitrogen intake and stimulate muscle protein synthesis.
The Goal
Because EAA supplementation has consistently been shown to increase muscle protein synthesis, researchers explored the effects of increased nitrogen intake, in the form of essential amino acids, on muscle strength and function after total hip arthroplasty.
The Results
THA patients were separated into two groups: one group received usual care and the other took 15 grams of essential amino acids 3 times a day for 8 weeks following surgery.
The EAA group enjoyed more significant improvements (approximately 35%) in leg strength, as demonstrated in Figure 1 below.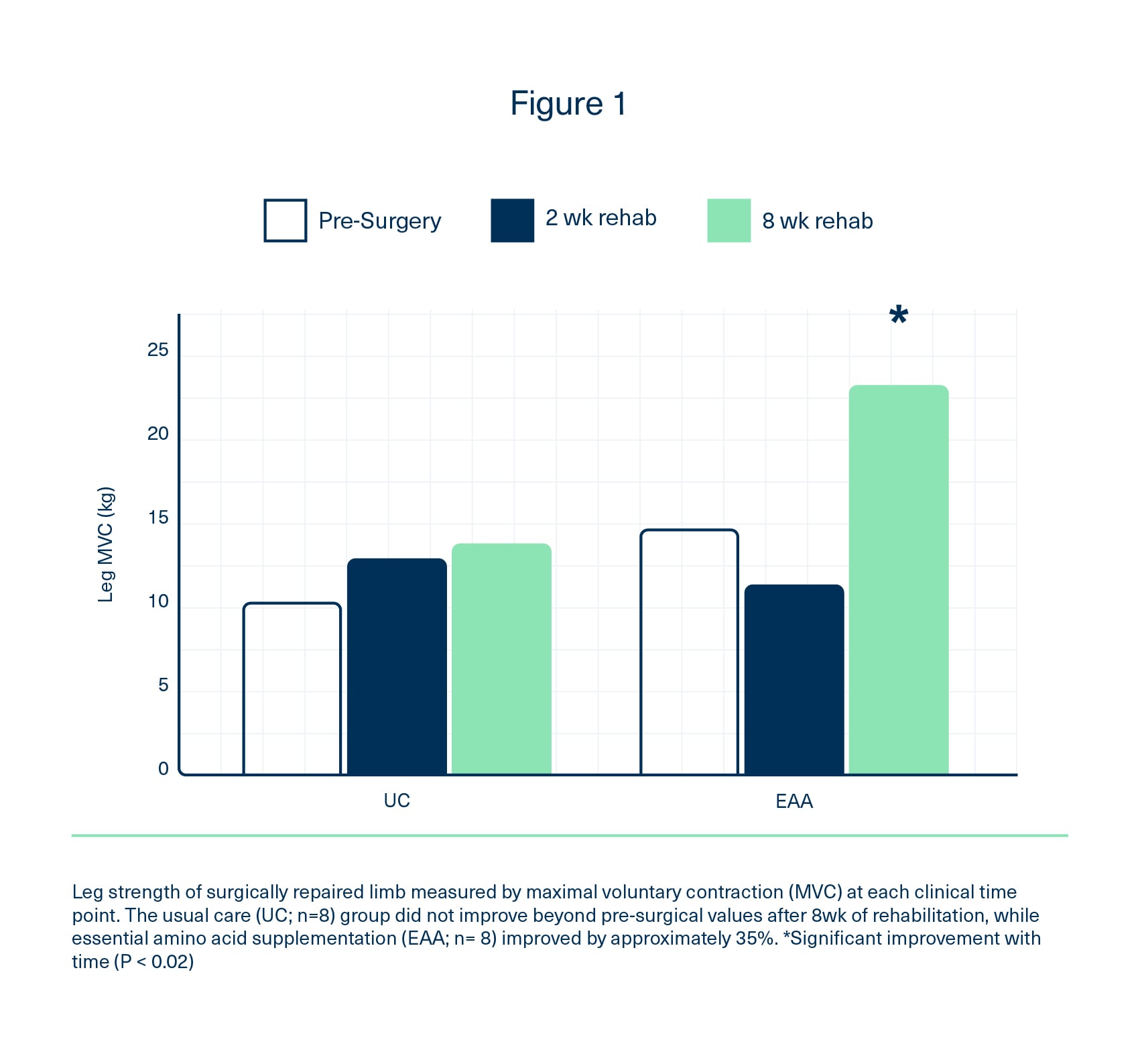 Conclusion
Researchers determined that increasing nitrogen intake through essential amino acid supplementation accelerates leg muscle strength recovery following THA, but that, after 8 weeks, strength still falls below a healthy range.
The Why?
Total hip arthroplasty is a last ditch effort at improving mobility and quality of life for 2.5 million Americans, and the rehabilitative outcomes are notoriously poor. This is in part due to the associated loss of muscle and strength. Providing nutritional support in the form of essential amino acids, proven to stimulate muscle building and strength, can help offset muscle loss following THA and improve rehabilitation outcomes.
Citation
A.A. Ferrando, M.M. Bamman, et al., Increased Nitrogen Intake Following Hip Arthroplasty Expedites Muscle Strength Recovery. Journal of Aging Research & Clinical Practice. Volume 2, Number 4, 2013