Leucine-enriched essential amino acid supplementation during moderate steady state exercise enhances postexercise muscle protein synthesis
Overview
Researchers have established that when essential amino acids are taken before, during, or immediately after resistance exercise, muscle protein synthesis increases. The effects of supplementation with essential amino acids on muscle protein synthesis during endurance training, however, have not been as heavily researched and show differing results.
Trial Length
Acute metabolic study
The Goal
Researchers examined the effects of an essential amino acid supplement with added leucine on muscle protein synthesis, whole-body protein turnover, and mammalian target of rapamycin 1 (mTORC1) intracellular signaling during recovery from a moderate bout of endurance exercise. They hypothesized that when a leucine-enriched essential amino acid supplement is taken during endurance exercise, leucine stores stay stocked, which benefits muscle protein synthesis, mTORC1 intracellular signaling, and whole-body protein utilization post-workout.
The Results
Although the leucine-enriched essential amino acid supplement with 3.5 grams of leucine did not increase mTORC1 intracellular signaling, it did increase postexercise muscle protein synthesis 33% more than the essential amino acid with 1.87 grams of leucine.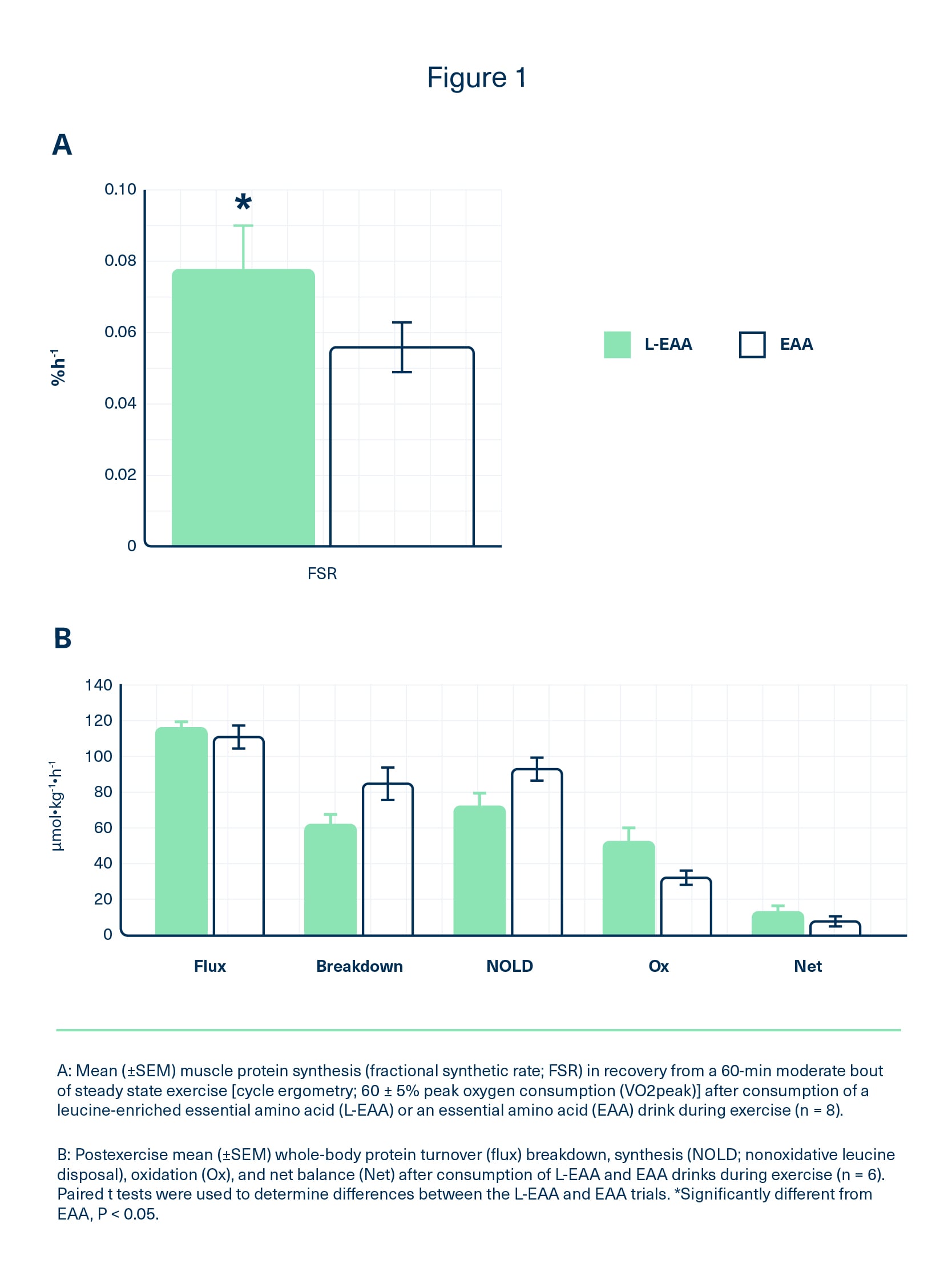 The Conclusion
Researchers concluded that taking a 10-gram dose of essential amino acids with a higher concentration of leucine during endurance exercise evokes a greater muscle protein synthesis response during exercise recovery.
The Why?
Much of the research on the effects of essential amino acids on muscle health has been dedicated to resistance exercise or performed at rest. This was the first study to highlight the ability of an essential amino acid supplement enriched with leucine to increase muscle protein synthesis after exercise.
Citation
Pasiakos SM, McClung HL, McClung JP, et al. Leucine-enriched essential amino acid supplementation during moderate steady state exercise enhances postexercise muscle protein synthesis. Am J Clin Nutr. 2011;94(3):809-818. doi:10.3945/ajcn.111.017061