Plasma kinetics of essential amino acids following their ingestion as free formula or as dietary protein components
Overview
In order to prevent age-related muscle loss, or sarcopenia, your muscle tissues must have a sufficient supply of essential amino acids to promote muscle protein synthesis, the creation of new muscle tissue as old muscle tissue is broken down. The body cannot make essential amino acids, which can only be provided through dietary means.
Previous studies show that supplementation with essential amino acids can help increase muscle protein synthesis, lean muscle mass, and strength in older adults, but there is also evidence that these benefits are inhibited when essential amino acids are taken as part of a dietary protein. The presence of complex carbs and fats may slow the rate of intestinal absorption of essential amino acids.
In the present study, researchers were interested in the plasma kinetics of essential amino acid concentrations when consumed as free-form essential amino acids and as components of dietary protein in both older and younger adults.
Trial Length
Acute metabolic study
Age Range
Elderly: 78 - 92
Young: 21 - 36
The Goal
Researchers compared the concentrations of plasma essential amino acids (EAAs) when given as free-form EAAs (FEAAs) or as components of dietary protein (DPEAAs) in 18 healthy young and elderly individuals.
The Results
When both young and elderly individuals supplemented with free-form amino acids they experienced a faster increase in plasma EAA levels 30-150 minutes after ingestion as well as significantly higher peak values of plasma EAAs. Plasma EAAs also cleared faster after FEAAs compared to DPEAAs, a benefit that could be important for people, such as sarcopenic individuals, with high requirements for EAAs and anabolic efficiency.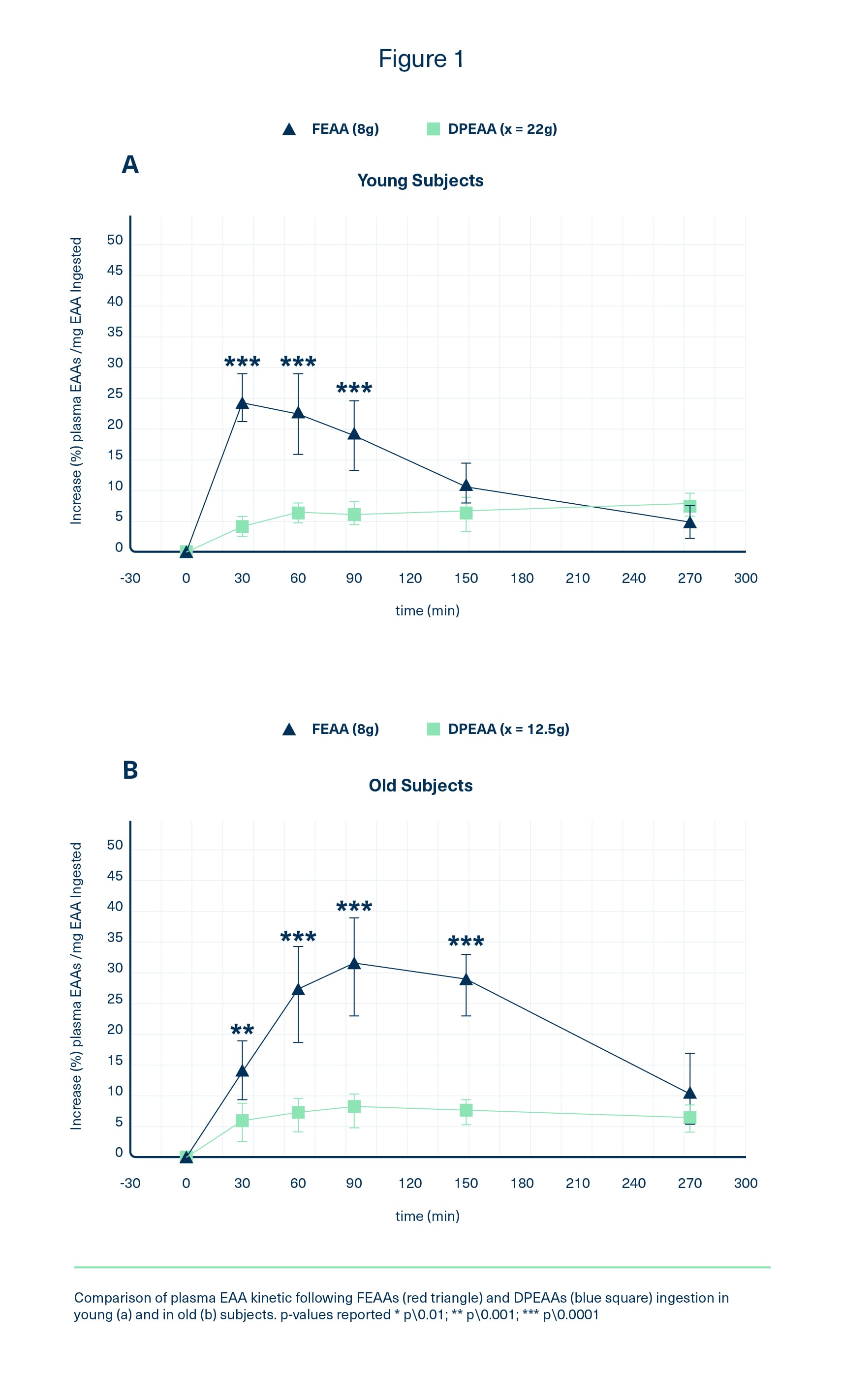 Findings suggest that EAA absorption is indeed slowed by the presence of carbohydrates and fats in dietary protein. Free-form EAAs might also be absorbed quicker because they are taken as a supplement as opposed to a time-consuming meal.
Conclusion
The anabolic response of muscle to protein consumption depends on how quickly plasma EAA levels reach peak values. Results show that supplementing with free-form EAAs is a more efficient way to stimulate muscle protein synthesis and anabolism than ingesting EAAs as part of dietary protein.
The Why?
This study is beneficial because it points to the importance of how essential amino acids are consumed and shows that supplementing with free-form EAAs is far more efficient for promoting muscle protein synthesis, building lean muscle mass, and increasing strength than ingesting essential amino acids from dietary protein foods or supplements such as whey protein. These findings hold important implications for the development of nutritional interventions for individuals who have difficulty increasing their consumption of protein-rich food.
Citation
Rondanelli M, Aquilani R, Verri M, et al. Plasma kinetics of essential amino acids following their ingestion as free formula or as dietary protein components. Aging Clin Exp Res. 2017;29(4):801-805. doi:10.1007/s40520-016-0605-7