Randomized double-blind trial of oral essential amino acids for dialysis-associated hypoalbuminemia
Overview
Hypoalbuminemia occurs when there is insufficient albumin in the blood, and a diagnosis in dialysis patients greatly increases the risk of disease and mortality. Researchers previously showed that ingesting essential amino acids helps to prevent hypoalbuminemia at the start of dialysis and improves survival on subsequent dialysis. In the current study, researchers examined the effects of an essential amino acid supplement on albumin levels in maintenance dialysis patients.
The Goal
To explore the effects of an essential amino acid supplement on serum albumin levels in hypoalbuminemic dialysis patients using a randomized, placebo-controlled, double-blind methodology.
The Results
Hemodialysis patients and peritoneal dialysis patients were given either 3.6 grams of EAAs or a placebo 3 times a day with meals for 3 months.
Hemodialysis patients are connected to an artificial kidney machine that cleanses the blood of waste products when the kidneys stop working properly. Dialysis pumps blood through the machine and then returns the cleansed blood back into the body through tubes inserted into blood vessels. In peritoneal dialysis, a catheter is placed in the belly and wastes are eliminated with a cleansing fluid called dialysate.
Results showed an improvement in serum albumin levels in hemodialysis patients given the EAAs but not in peritoneal dialysis patients.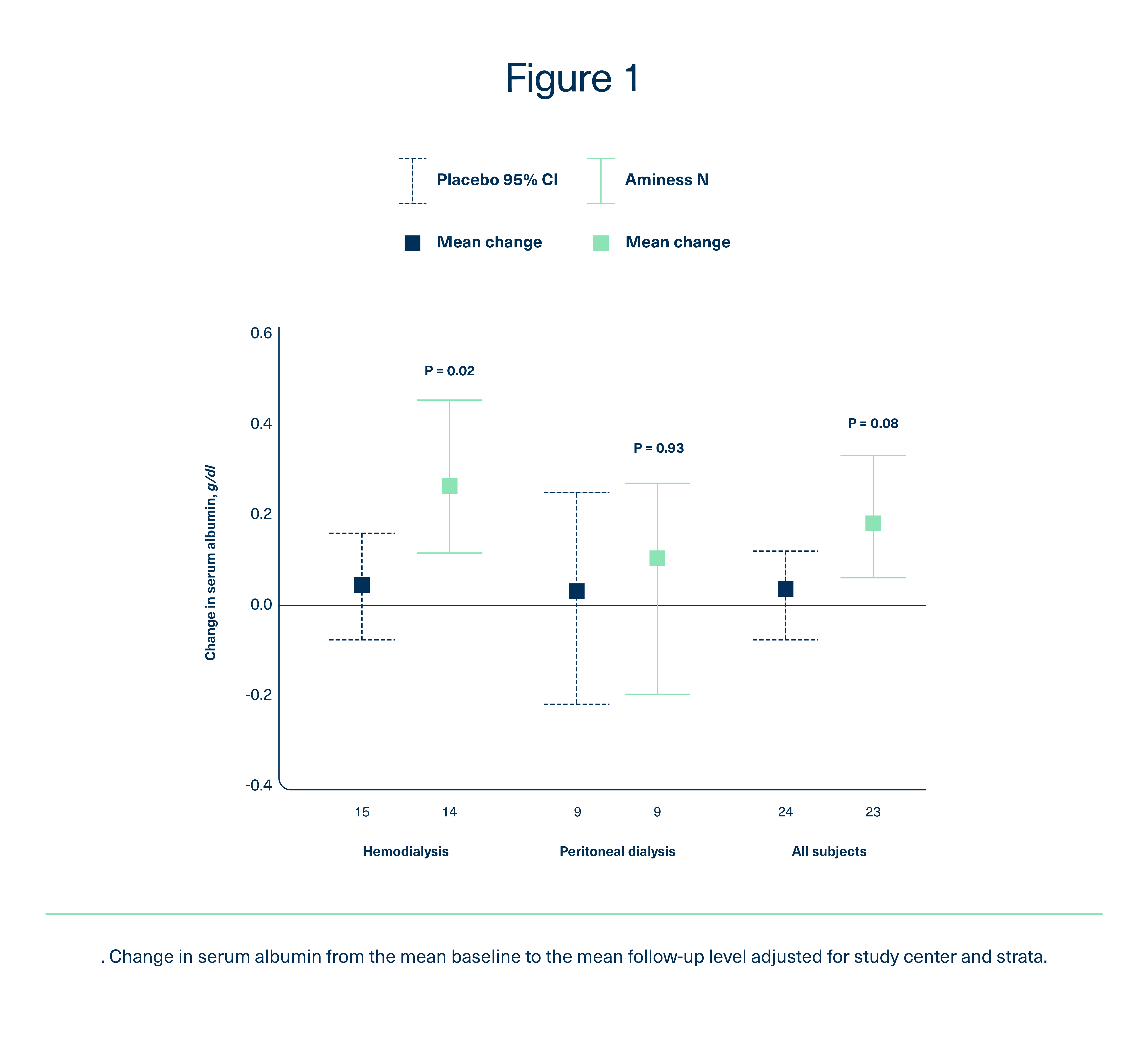 Researchers posit that the lack of benefit seen in peritoneal dialysis patients may be due to a large portion of the supplement being lost into their dialysate. Peritoneal dialysis patients also had lower compliance and greater deviations in albumin concentrations. For this reason, researchers are unable to rule out or validate the potential benefit of essential amino acid ingestion on peritoneal dialysis patients.
The greatest gains in albumin were shown in hemodialysis patients who started with the lowest albumin levels, and those are the patients at the greatest risk of developing life-threatening complications. C-reactive protein levels also went down, which suggests that essential amino acids may help subdue chronic inflammation.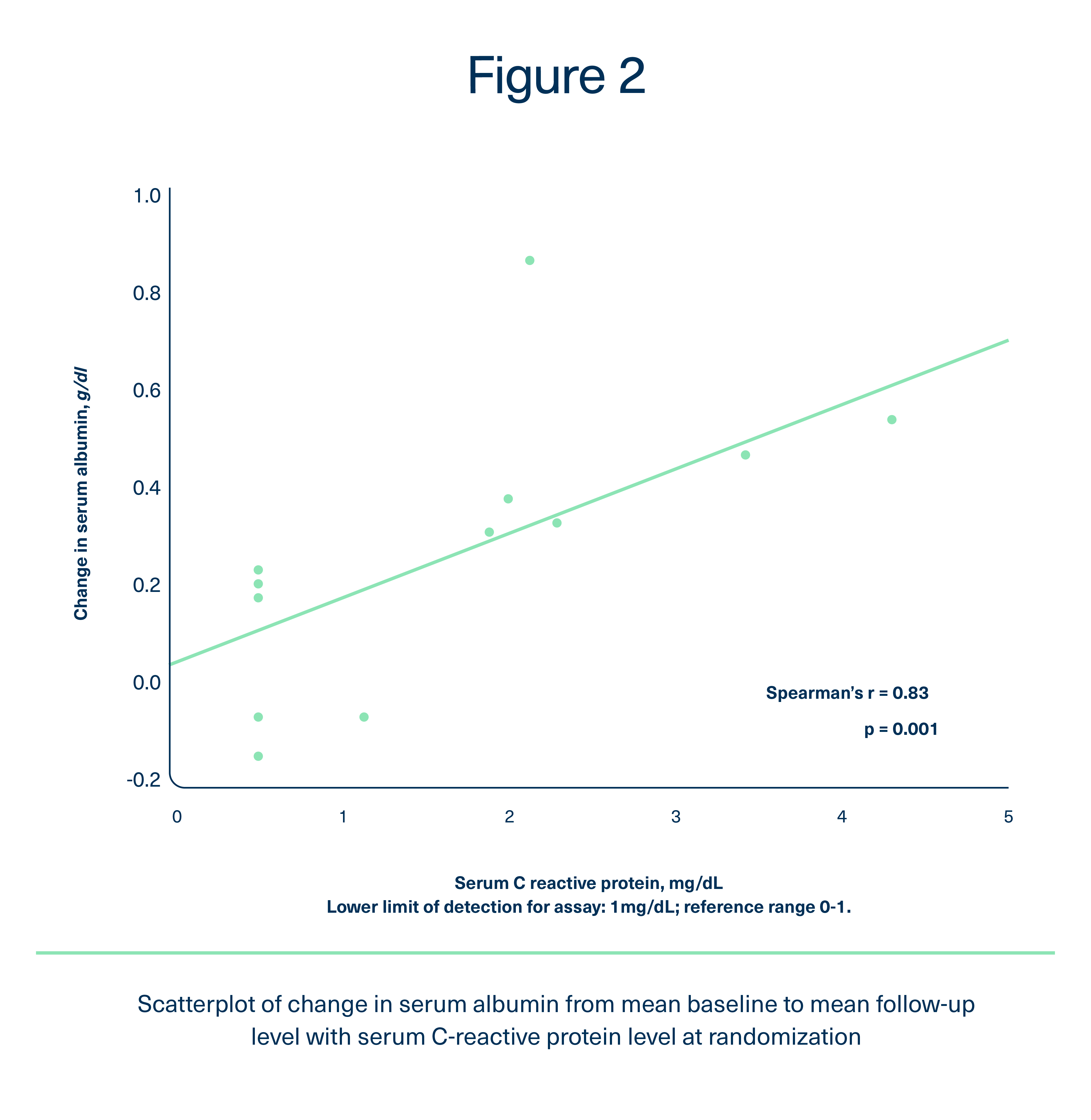 Hemodialysis patients that took EAAs also had stronger grip strength and reported improved quality of life.
The Conclusion
Researchers conclude that taking essential amino acids orally can significantly improve the level of albumin in the blood in hemodialysis but not peritoneal dialysis subjects.
The Why?
Common in dialysis patients, hypoalbuminemia is associated with poor outcomes for patients and a two-fold increased risk of dying. Dialysis patients may have difficulty meeting nutritional and energy requirements, and essential amino acid supplements are a worthwhile and cost-effective treatment that can help overcome this deficiency and improve nutritional intake in dialysis patients.
Citation
Eustace JA, Coresh J, Kutchey C, Te PL, Gimenez LF, Scheel PJ, Walser M. Randomized double-blind trial of oral essential amino acids for dialysis-associated hypoalbuminemia. Kidney Int. 2000 Jun;57(6):2527-38. PMID:10844622