Resistance training and timed essential amino acids protect against the loss of muscle mass and strength during 28 days of bed rest and energy deficit
Overview
Spaceflight and bed rest result in profound reductions in muscle mass, strength, and function, which can have long-term consequences on astronauts' health, including increasing the risk of obesity, disease, and mortality. Amino acids and resistance exercise have been shown to mitigate the effects of spaceflight and bed rest, but this present study seeks to investigate the role timing of supplementation plays, and if the combined effects of resistance exercise and amino acids are stronger than amino acid supplementation alone when used alongside a reduced-calorie diet.
The Goal
To examine the degree to which the joint efforts of resistance exercise and an essential amino acid supplement given either 5 minutes before or 3 hours post workout help protect against muscle loss during bed rest under conditions of an energy deficit similar to that which occurs during spaceflight.
The Results
Researchers randomly separated 31 men assigned to 28 days of strict bed rest into three groups. One group supplemented with essential amino acids, a second group resistance trained while supplementing with essential amino acids 3 hours after training, and a third group resistance trained while supplementing with essential amino acids 5 minutes before training.
Each group achieved an energy deficit of −230 kcal/day to match the −240 kcal/day found in spaceflight.
Results showed that the men in the group that did not exercise during bed rest but received amino acids gained body fat while losing body weight and lean muscle mass. In contrast, the men who exercised and supplemented with amino acids lost body weight and body fat but maintained more body protein.
After 28 days of bed rest there was a dramatic decline in fat mass that continued after active recovery in the groups engaged in resistance training, which suggests that strength training protects against unhealthy changes in body composition during bed rest.
The following table demonstrates the difference in upper and lower body strength between the three groups at the start and end of the study.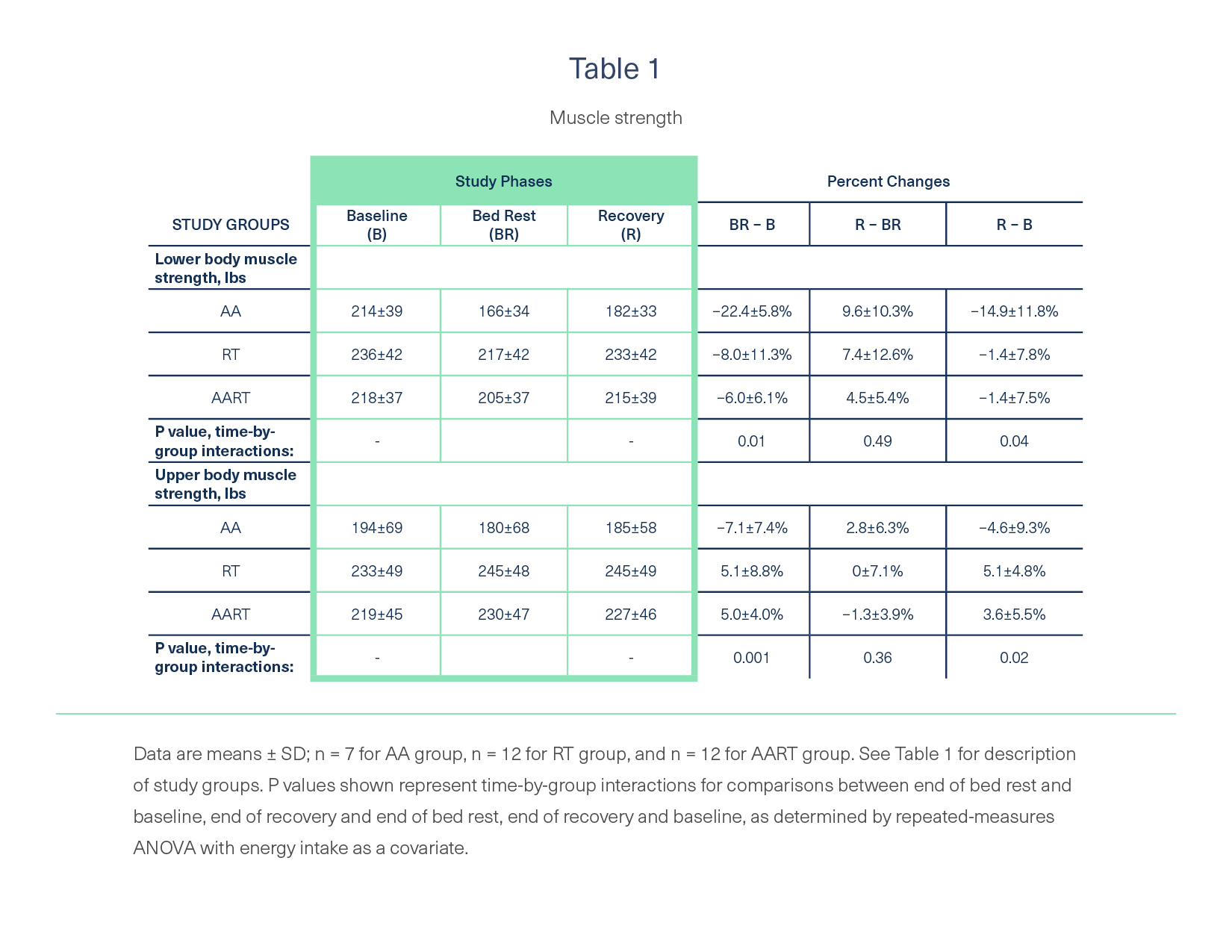 In addition, insulin levels rose sharply in the amino acid only group from the start to the end of bed rest, while they significantly dropped in the groups that resistance trained alongside amino acid supplementation.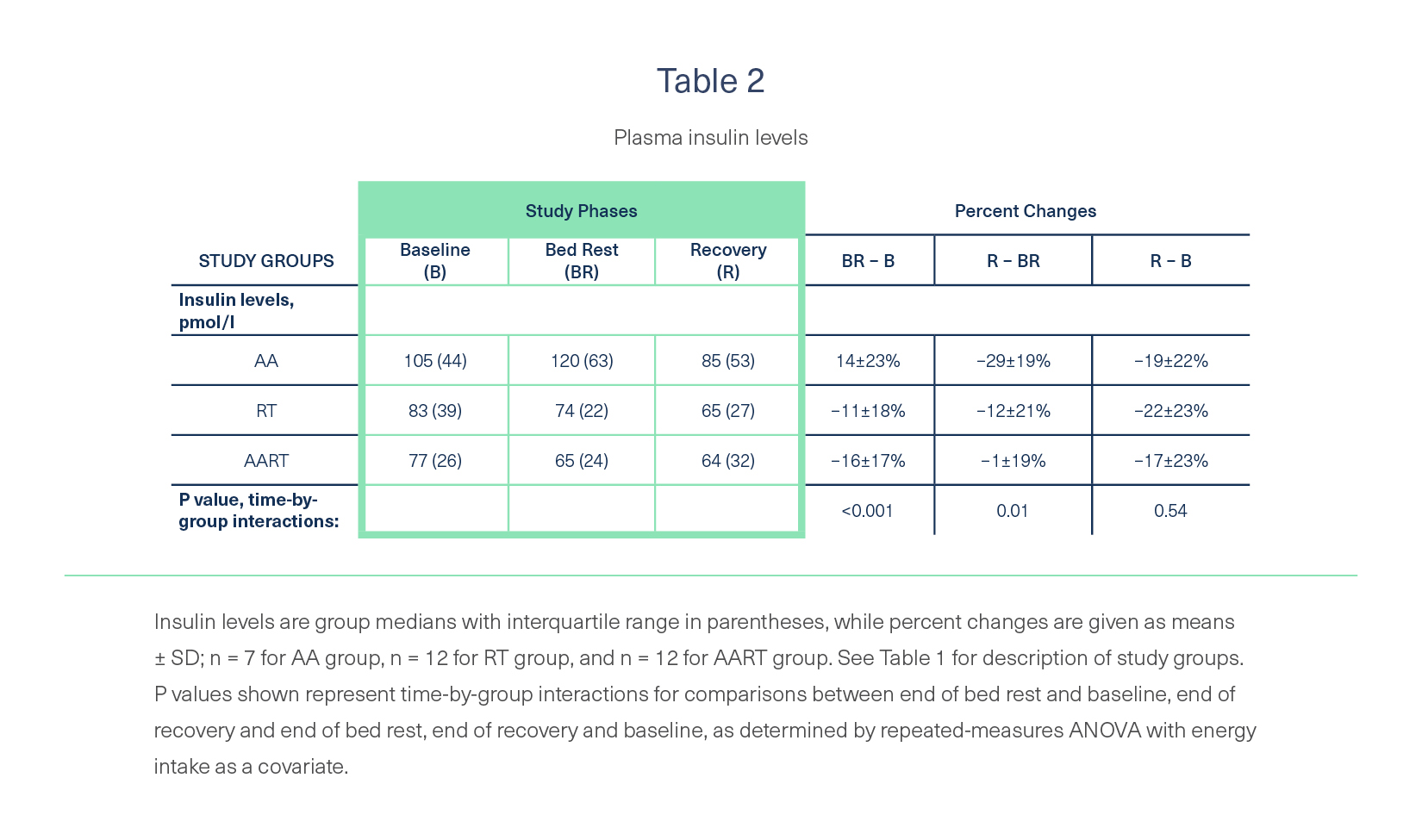 On average, the men who resistance trained and supplemented, whether 5 minutes before or 3 hours after exercise, decreased the negative effects of bed rest on muscle strength, muscle mass, and fat mass by approximately two-thirds.
Conclusion
When combined with resistance training, essential amino acid supplementation pre or post workout prevents losses in muscle mass and strength by as much as two-thirds during bed rest and energy deficit. Researchers conclude that supplementation with essential amino acids coupled with resistance exercise can help prevent muscle wasting due to low gravity or bed rest.
The Why?
The loss of muscle mass and strength during spaceflight creates challenges for long-term spaceflight, such as trips to Mars. Similar muscle wasting is seen in patients during prolonged periods of bed rest. Taking an amino acid supplement and adding in a protocol of resistance training can help prevent the loss of muscle mass and strength during spaceflight, thereby increasing more opportunities for long-term space travel, and also can help protect against muscle wasting during injury or illness that calls for bed rest.
Citation
Brooks N, Cloutier GJ, Cadena SM, Layne JE, Nelsen CA, Freed AM, Roubenoff R, Castaneda-Sceppa C. Resistance training and timed essential amino acids protect against the loss of muscle mass and strength during 28 days of bed rest and energy deficit. J Appl Physiol. 2008 Jul;105(1):241-8. doi: 10.1152/japplphysiol.01346.2007. Epub 2008 May 15. PMID:18483167