Skeletal muscle protein anabolic response to resistance exercise and essential amino acids is delayed with aging
Overview
After the age of 30, we lose approximately 5% of our muscle mass every decade. Sarcopenia, or age-related muscle loss, puts us at increased risk of fractures, falls, and reduced quality of life. Resistance exercise has been shown to help protect against sarcopenia by activating muscle protein synthesis, but this response is blunted in older individuals. Previous research has shown, however, that essential amino acids (EAAs) can stimulate muscle protein synthesis to a similar degree in both old and young people.
Trial Length
6 hours after consumption
The Goal
Researchers examined the effects of an essential amino acid supplement given to both elderly and young participants following resistance exercise. They hypothesized that the muscle protein synthesis response would be similar in both groups.
The Results
Young and older men were given 20 grams of essential amino acids (EAAs) 1 hour after resistance exercise. Muscle biopsies were taken prior to exercise and 1, 3, and 6 hours following exercise.
Results showed that, while the muscle protein synthesis response after EAA ingestion and resistance exercise was similar in young and older men, the response was slowed in the elderly. Specifically, muscle protein synthesis increased by 145% 1 to 3 hours post exercise in the young men, but did not increase in the older group until 3-6 hours after exercise. During the later window, the muscle protein response was significantly and similarly elevated in the two groups.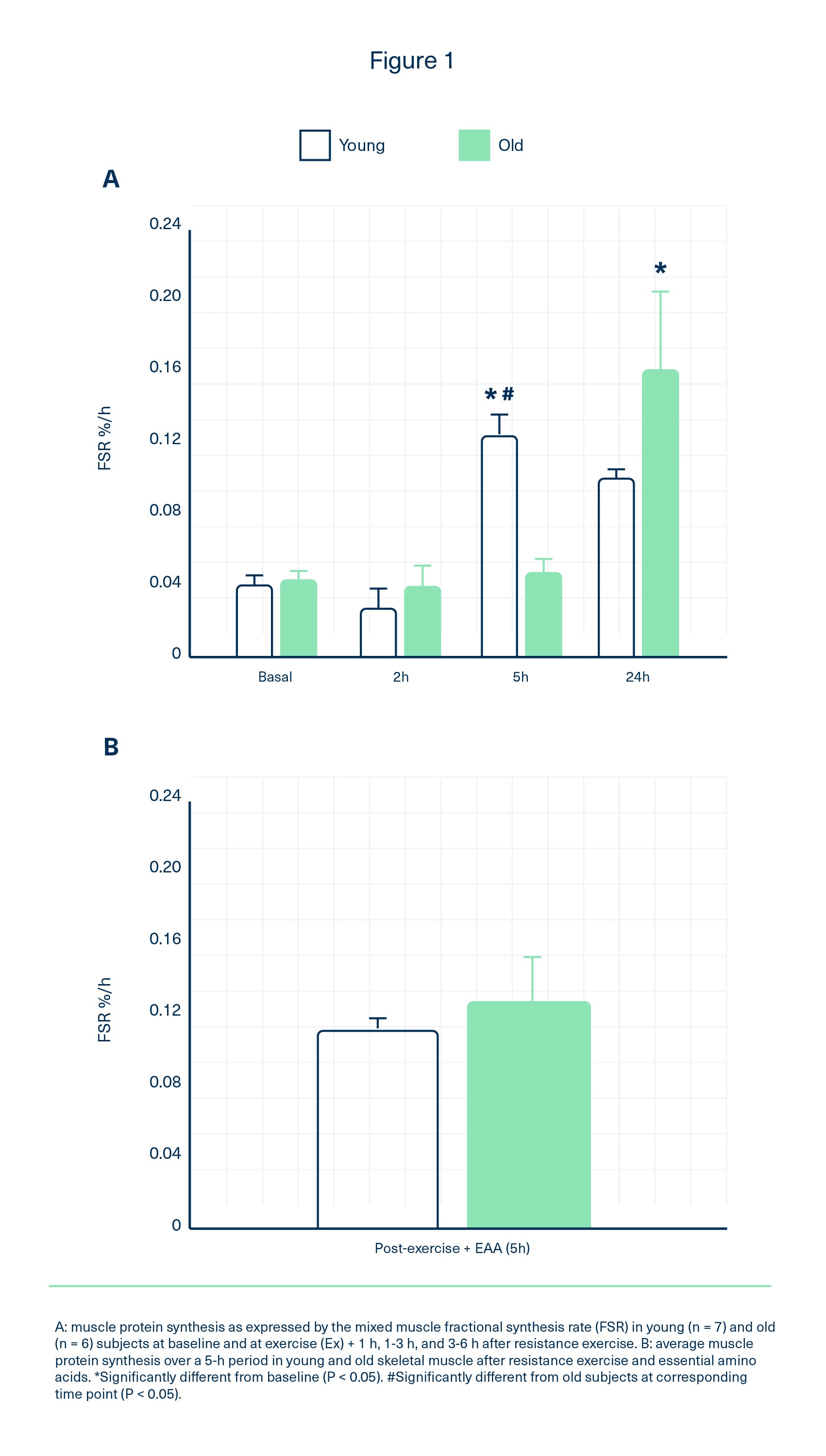 Conclusion
Researchers determined that when essential amino acids are ingested after a bout of resistance exercise, the muscle protein synthesis response is similar between young and older men, however, the response is delayed in the older population. This may be due to unresponsive ERK1/2 signaling and AMPK activation in aged muscle.
ERK and mTOR as agents of muscle protein synthesis
Both the ERK pathway and mTOR signaling need to be activated in order for muscle protein synthesis to occur in the hours just after resistance exercise. This study showed that ERK 1/2 and MNK1 phosphorylation were only increased in young participants an hour after exercise, which suggests that resistance exercise is able to activate the pathways that stimulate muscle protein synthesis in young skeletal muscle to a far greater degree than in older skeletal muscle. In addition AMPKα phosphorylation, which inhibits mTOR signalling, was increased in old muscle vs. young muscle at 1 and 3 hours post-exercise.
The Why?
An estimated 25-50% of people over the age of 65 are sarcopenic, which significantly increases the risk of disease and mortality. Lifestyle modifications, such as implementing a resistance exercise program, and nutritional therapeutics, such as essential amino acids, can help delay the progression of sarcopenia, thus protecting against associated health conditions and reduced quality of life.

Citation
Drummond MJ, Dreyer HC, Pennings B, et al. Skeletal muscle protein anabolic response to resistance exercise and essential amino acids is delayed with aging. J Appl Physiol (1985). 2008;104(5):1452-1461. doi:10.1152/japplphysiol.00021.2008