The Hip Functional Retrieval after Elective Surgery May Be Enhanced by Supplemented Essential Amino Acids
Overview
Elective hip arthroplasty (EHA) is a surgical procedure in which the hip joint is replaced by a prosthetic implant. Globally, 1.5 million EHA operations are carried out each year due to injury or degenerative damage from conditions such as osteoarthritis.
Rehabilitation can be impaired due to inflammation and changes in the amounts of amino acids in the blood. These alterations can make recovery time longer and additional rehab necessary. Tissue repair can be interrupted if there is not enough amino acid support for wound healing and the restoration of skeletal muscle mass. Maintaining sufficient plasma amino acids could, therefore, help accelerate functionality of the hip-joint after surgery.
The Goal
To determine if elective hip arthroplasty patients experienced changes in circulating amino acids as a result of ongoing inflammation and to investigate if essential amino acids (EAAs) could accelerate hip-joint recovery and correct amino acid levels in the blood.
The Results
Sixty patients were randomized to a group receiving a 14-day treatment of 8 grams of EAAs a day or a group receiving a placebo of maltodextrin.
Inflammation decreased in both groups at a similar rate, but only the EAA group saw improvements in plasma amino acid levels; specifically, increases in glycine, alanine, tyrosine, total amino acids, and total essential amino acids, while increased levels of arginine normalized.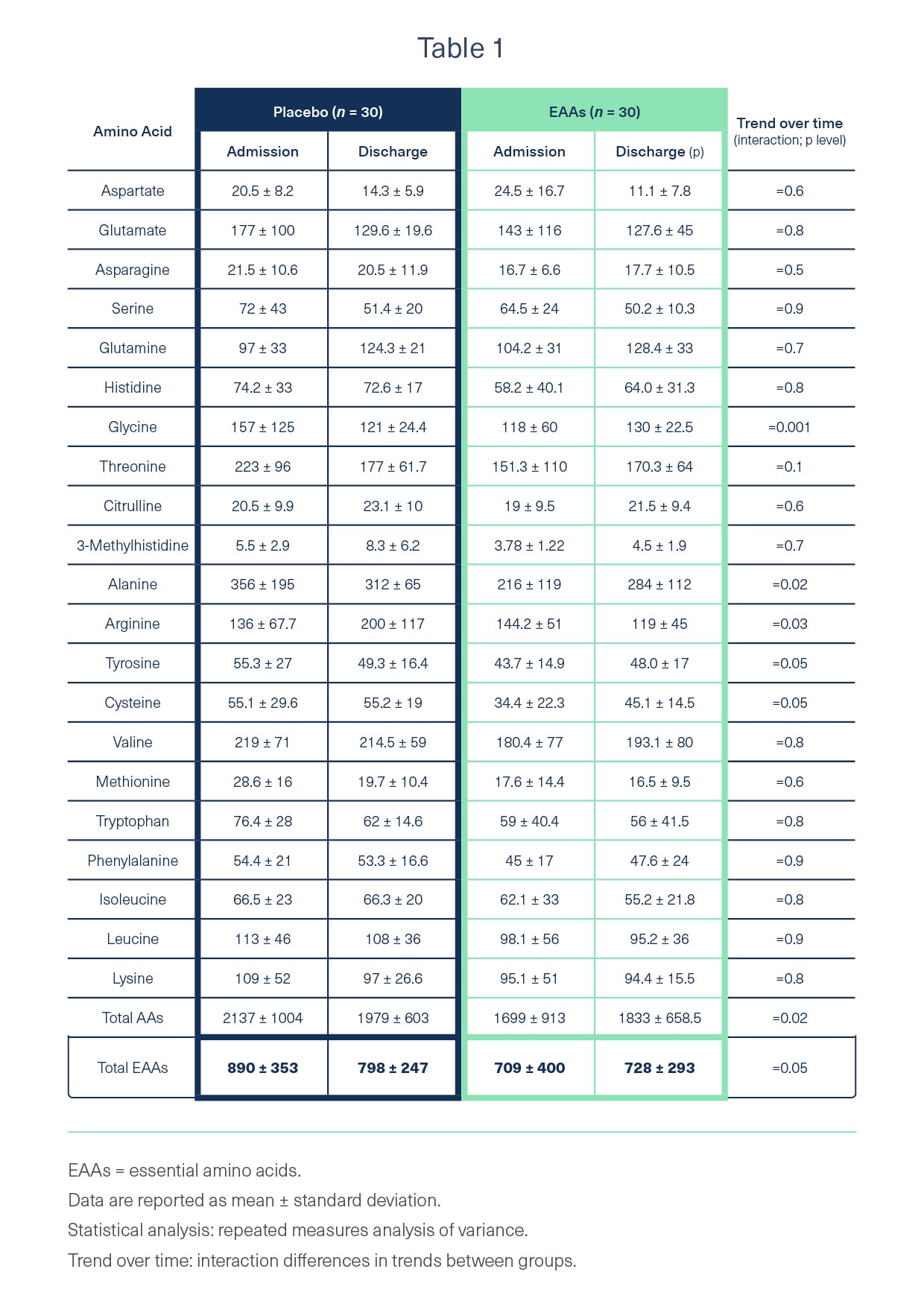 All patients enjoyed gains in hip function, but the EAA patients improved significantly more and experienced far less pain than the placebo patients did.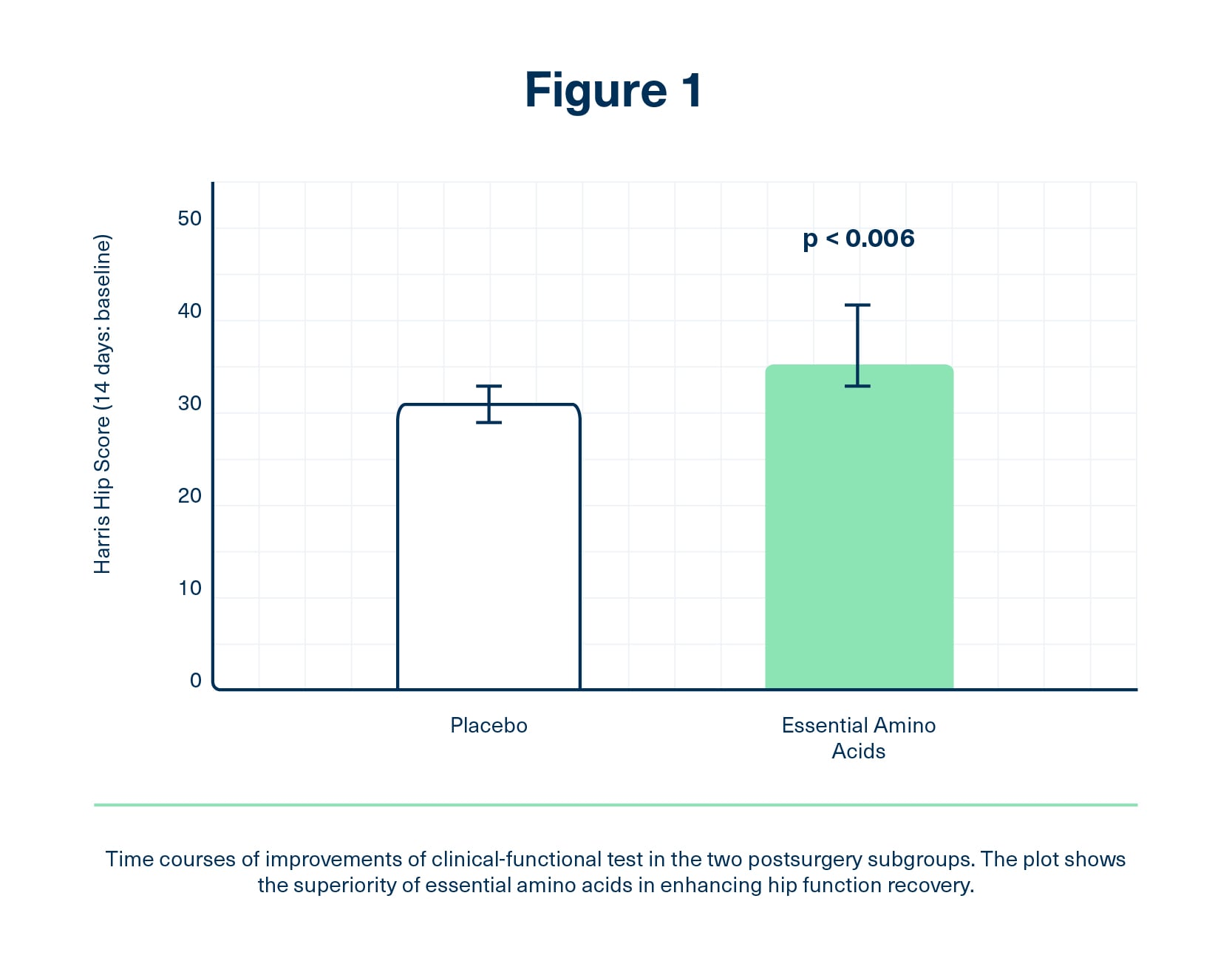 Conclusion
Research shows that EHA patients may have abnormal levels of amino acids circulating in the blood due to inflammation and that supplementation with EAAs may improve rehabilitation by lowering pain and accelerating recovery of hip-joint function. While supplemented EAAs helped to improve levels of circulating amino acids, they did not entirely correct amino acid abnormalities.
EAAs enhance hip function retrieval
EAAs support hip function retrieval by exerting an anabolic (building up) effect even in the presence of inflammation. Supplementation with EAAs also helps to increase the strength and muscle mass of the operated hip joint and reduce muscle weakness and soreness.
The Why?
When metabolic alterations such as abnormal EAA levels and inflammation remain persistent during the recovery phase of EHA, rehabilitation and functionality can be compromised. Supplementing with EAAs after surgery may help improve persistent hip dysfunction. EAAs help reduce pain so that patients can continue with physical therapy uninterrupted and accelerate recovery.
Citation
Baldissarro E, Aquilani R, Boschi F, et al. The Hip Functional Retrieval after Elective Surgery May Be Enhanced by Supplemented Essential Amino Acids. Biomed Res Int. 2016;2016:9318329. doi:10.1155/2016/9318329