Unaffected arm muscle hypercatabolism in dysphagic subacute stroke patients: the effects of essential amino acid supplementation
Overview
Stroke is a leading cause of long-term disability worldwide. One year after suffering a stroke, approximately one-third of stroke survivors are permanently disabled and one-third cannot walk without assistance. In addition to loss of dexterity and strength, changes in muscle protein turnover in the unaffected side of stroke patients can contribute to physical disability after a stroke.
The Goal
To see if hypercatabolism (the excessive breakdown of muscle protein) occurs in unaffected arm muscle and if supplementing with essential amino acids (EAAs) could offset this muscle loss.
The Results
Thirty days post-stroke, subjects showed evidence of muscle hypercatabolism in the unaffected arm when compared to healthy control subjects. After 38 days, participants taking 8 grams of EAAs daily no longer showed evidence of extreme muscle breakdown and instead enjoyed balanced protein turnover or anabolic activity (increases in muscle mass). Participants in the placebo group showed no such effect.
The table below shows how the EAA and placebo groups had similar amino acid concentrations at admission but only the EAA group had normalized protein metabolism at discharge.

Figure 1 shows the discrepancy between the time courses of phenyl-, total essential amino acid, total amino acid (A − V) differences, and total arterial amino acid levels of the two groups.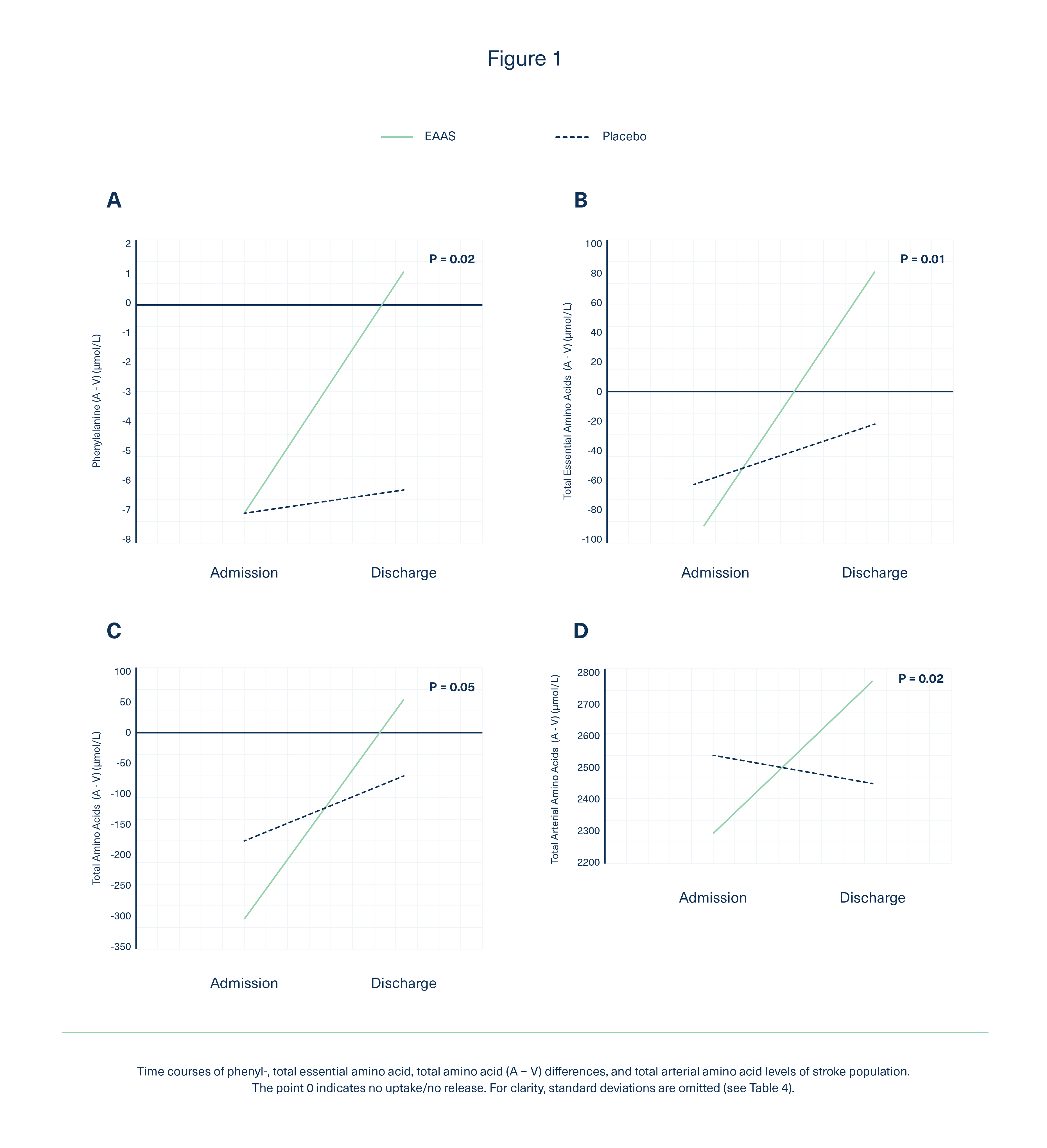 Conclusion
Researchers concluded that excessive muscle loss in the unaffected arm of stroke patients can occur one month after stroke and be corrected by supplemented EAAS.
Alterations of arterial amino acid profile
Stroke patients released considerable amounts of the amino acids threonine, asparagine, and the BCAAs, indicating a depletion of amino acids in unaffected muscle. Stroke patients also had diminished levels of glutamine, aspartate, asparagine, alanine, taurine, and tryptophan in the blood, with elevated levels of phenylalanine, methionine, lysine, and the BCAAs. These increases are due to the loss of amino acids from the muscle.
The Why?
This study showed that the unaffected arm muscles of stroke patients are prone to hypercatabolic activity which, if left untreated, causes muscle wasting. This loss of muscle mass has a significant impact on patients' quality of life and functionality, impacting blood sugar control, increasing the risk for osteoporosis, compromising heart health, and exacerbating disability, particularly walking. Treating muscle wasting with therapeutics such as EAAs is of critical importance for the successful rehabilitation of stroke patients.
Citation
Aquilani R, Boselli M, D'Antona G, Baiardi P, Boschi F, Viglio S, Iadarola P, Pasini E, Barbieri A, Dossena M, Bongiorno AI, Verri M. Unaffected arm muscle hypercatabolism in dysphagic subacute stroke patients: the effects of essential amino acid supplementation. Biomed Res Int. 2014;2014:964365. doi: 10.1155/2014/964365. Epub 2014 Nov 9. PMID:25431770