Whey protein and essential amino acids promote the reduction of adipose tissue and increased muscle protein synthesis during caloric restriction-induced weight loss in elderly, obese individuals
Overview
Obesity and sarcopenia (age-related muscle loss) greatly increase the risk of chronic disease and mortality in the older population. Weight loss is not a solution in and of itself due to the increase in muscle loss that accompanies it, which is why researchers focus their efforts on nutrients that can promote weight loss while protecting against muscle loss.
Previous research has proven that whey protein and essential amino acids help preserve lean muscle in the elderly, even under conditions of bed rest and illness. Determining the most effective formulation of whey protein and essential amino acids would potentially protect against sarcopenic obesity and its associated conditions in the elderly.
The Goal
To examine whether a whey protein + essential amino acid meal replacement stimulates greater fat loss and greater preservation of muscle tissue than a competitive meal replacement when obese, elderly participants follow a calorie-restricted eating plan designed to promote approximately 7% weight loss over the course of 8 weeks.
Researchers hypothesized that the whey protein/amino acid formula would help maintain lean muscle tissue by increasing the skeletal muscle fractional synthesis rate (FSR), which would also lead to greater gains in fat loss.
The Results
All participants followed a 1250 kcal/day diet made up of solid food and 5 servings of either 7 grams of whey protein and 9.7 grams of proprietary essential amino acids (EAAMR) or 14 grams intact protein derived from sodium casenate and calcium casenate and 3.5 grams essential amino acids (CMR).
Both groups lost approximately 7% body weight, as intended. EAAMR didn't significantly preserve lean muscle tissue compared to CMR, but did reduce adipose fat to a greater degree (30% more) than CMR. EAAMR also increased the acute skeletal muscle protein FSR.
Figure 1 below shows the difference in fat loss between the two groups and figure 2 shows the difference in lean tissue.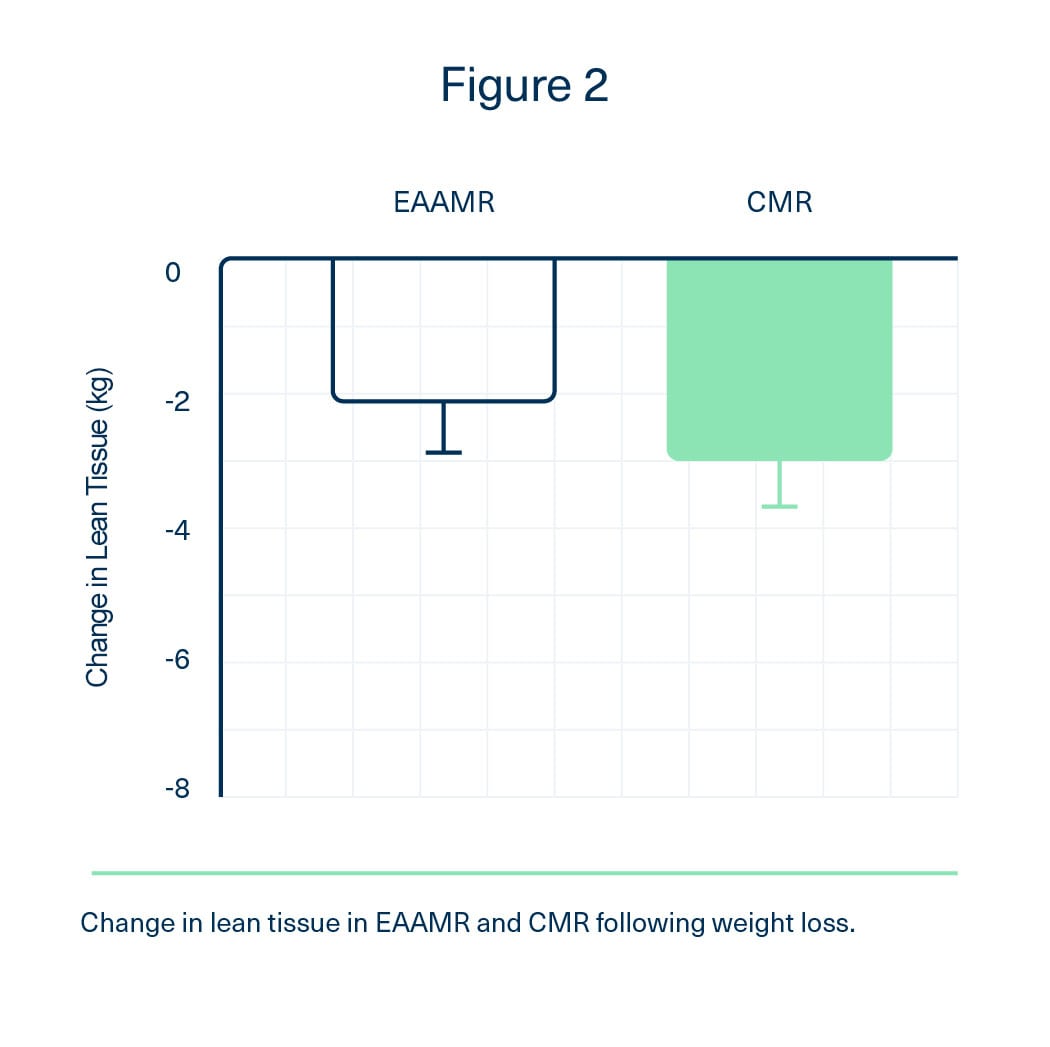 Conclusion
Researchers concluded that a whey protein/essential amino acid-based meal replacement can help preserve muscle mass and promote fat loss in the elderly more effectively than a popular protein-based competitor meal replacement.
The Why?
Age-related muscle loss is often exacerbated by lack of physical activity and poor nutrition and increases the risk of disease and mortality while significantly lowering quality of life. As we age, skeletal muscle becomes less responsive to the body's muscle-building mechanisms. The increased prevalence of obesity among the elderly further increases the risk for metabolic syndrome and its associated conditions. This study shows that a high-quality essential amino acid-based formulation can promote fat loss, which in turn improves insulin sensitivity, protects against metabolic syndrome, and helps maintain muscle mass with age.
Citation
Coker RH, Miller S, Schutzler S, Deutz N, Wolfe RR. Whey protein and essential amino acids promote the reduction of adipose tissue and increased muscle protein synthesis during caloric restriction-induced weight loss in elderly, obese individuals. Nutr J. 2012;11:105. Published 2012 Dec 11. doi:10.1186/1475-2891-11-105