5 Proven Health Benefits of Amino Acids
By:
by Dr Robert Wolfe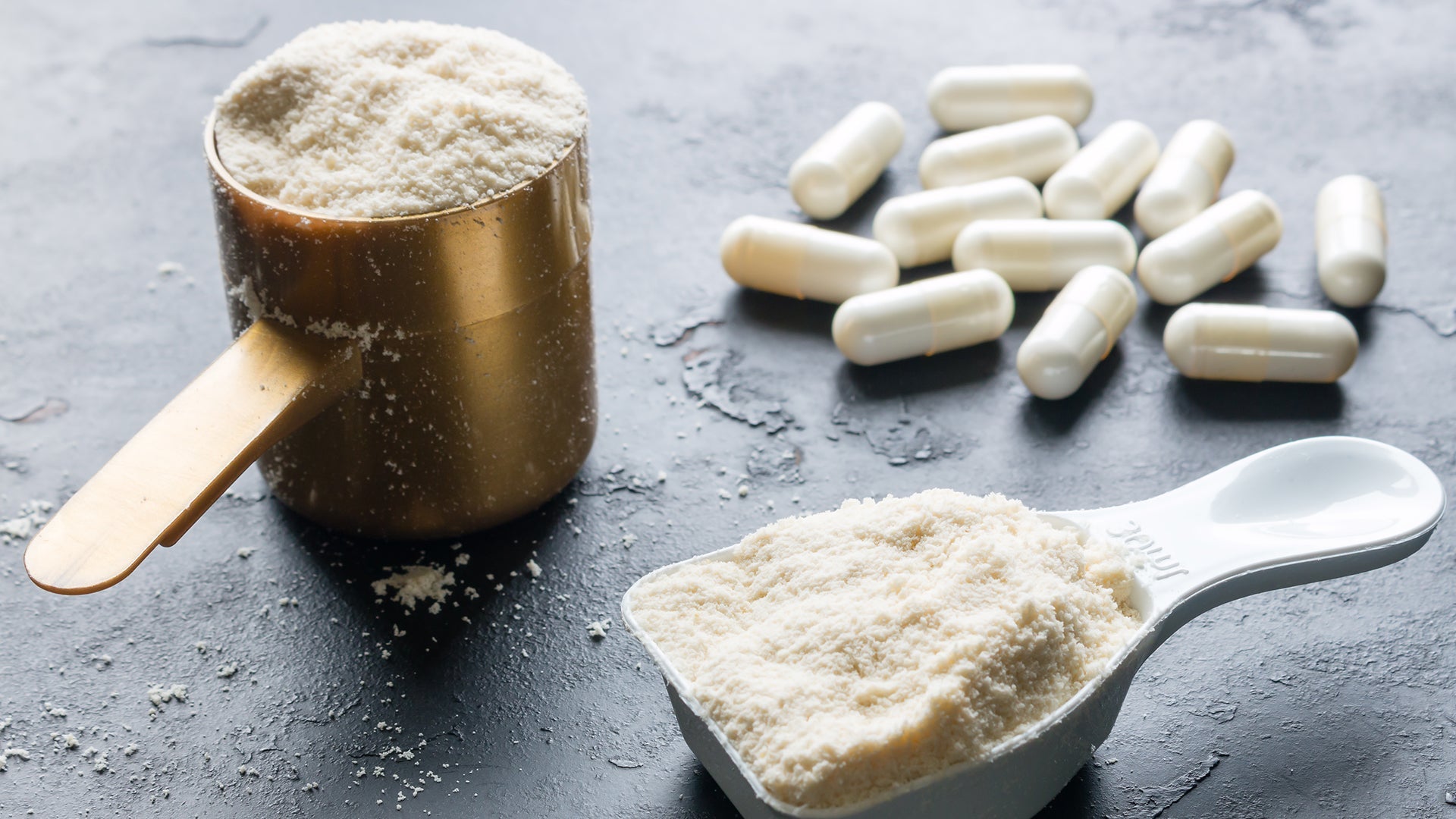 Amino acids, fittingly nicknamed the building blocks of proteins, not only make up the protein you eat, but also join together to form proteins in your body. These proteins are the very foundation of your hair, nails, bones, muscles, cartilage, connective tissues, and skin. They are the proteins your body uses to build and repair tissues and to synthesize hormones and enzymes. When you eat dietary protein, your body breaks amino acids into their individual parts, and then uses these amino acids to build the protein your body requires. Given that amino acids are so integrated into the makeup of the human body, it's hardly surprising that researchers have uncovered a plethora of health benefits of amino acids.
Amino acids play a key role in muscle health, and, for this reason, amino acid supplements are popular in the bodybuilding world. But amino acids, while key muscle makers, perform many more health-enhancing feats. While they undoubtedly play vital roles in processes such as muscle growth and muscle recovery, they also contribute to brain function. Research indicates that increasing your amino acid intake from food sources or by taking supplements can help improve mood and keep stress at bay. Plus, they can strengthen the immune system. Before diving deep into five scientifically validated health benefits of amino acids, let's take a moment to go over some amino acid basics.
The Basics of Amino Acids
In scientific terms, amino acids can be defined as organic compounds composed of nitrogen, carbon, hydrogen, and oxygen, along with a variable side chain group. Scientists have identified 20 different amino acids that the human body requires in order to properly develop and maintain itself. Though all 20 make essential contributions to your overall health, 9 of those amino acids have been categorized as essential amino acids (EAAs):
Histidine
Isoleucine
Leucine
Lysine
Methionine
Phenylalanine
Threonine
Tryptophan
Valine
The reason scientists deemed those nine amino acids essential is that your body cannot independently produce them, making it essential that you obtain them from the food you eat or supplements you take.
Three of the nine essential amino acids exist in their own subcategory: the branched-chain amino acids (BCAAs). Those amino acids are:
Isoleucine
Leucine
Valine
While many have touted the benefits of BCAA supplements, based on the impressive effects of those three specific amino acids, the truth is that to benefit from an increased supply of one amino acid, your body must have a balanced amount of all the essential amino acids.
The 11 amino acids necessary for human health that the body can produce on its own are called nonessential amino acids (NEAAs), because it's not essential that you consume them.
However, the dividing line between essential amino acids and nonessential amino acids has more wiggle room than their names might initially lead you to believe. Enter the conditionally essential amino acids. Of the 11 nonessential amino acids, 7 have been identified as conditionally essential:
Arginine
Cysteine
Glutamine
Glycine
Proline
Serine
Tyrosine
While your body has the ability to generate these amino acids, that ability becomes compromised under certain conditions, like if you become ill or are dealing with chronic stress. To illustrate this idea, let's look at how this plays out with one specific conditionally essential amino acid: arginine. Researchers have found that your body cannot produce enough arginine on its own while fighting diseases such as cancer. Under those conditions, it becomes essential to augment your body's supply of naturally produced arginine with supplemental arginine.
Now that you have a working understanding of the different types of amino acids relevant to human health, we can discuss some of the most exciting, research-backed health benefits associated with individual amino acids.
5 Proven Benefits of Amino Acids for Your Body and Mind
We rely on amino acids to perform a multitude of roles. An adequate intake of amino acids helps us build muscle, maintain mental focus, maximize exercise performance, and more. Amino acids contribute to crucial bodily functions such as:
Protein synthesis
Tissue growth and repair
Energy production
Immune defenses
Wound healing
Nutrient absorption
Individual amino acids have been shown to prevent muscle loss, increase energy, boost endurance and stamina, improve mood, decrease body fat percentage, speed recovery time, enhance immune health, optimize sleep quality, and more.
The essential amino acids, which your body cannot generate, can be found in high-quality sources of dietary protein. While eating a vegetarian or vegan diet may necessitate that you pay closer attention to your amino acid intake, it's certainly possible to meet your body's needs using only plant-based proteins. Furthermore, it can be beneficial to take concentrated doses in supplemental forms regardless of how healthy and balanced a diet you eat.
Amino Acid Benefit #1: Muscle Protector
Muscle tissue consists mainly of proteins, and protein is made of amino acids. It stands to reason that amino acids would have a pronounced effect on muscle growth. As you may be aware, increasing your amino acid intake can boost muscle mass, strength, and function by stimulating muscle protein synthesis, or the building of new muscle tissue.
Did you know, however, that amino acids also help prevent muscle breakdown during exercise or between meals? In other words, they not only encourage muscle growth, but they also protect the gains you've worked so hard to build.
When you exercise, your body uses glucose, fats, and protein as fuel sources. If the body is low in fuel, it will start pulling protein from muscles, chipping away at your overall muscle mass. For instance, endurance activities quickly drain your stores of branched-chain amino acids (BCAAs). To avoid muscle loss, it's important to supply your body with more essential amino acids, either by eating dietary protein or supplementing with amino acids. This ensures amino acid levels in your bloodstream stay stable and keeps your muscles protected.
Amino Acid Benefit #2: Energy Generator
As I touched on above, your body requires fuel to carry out tasks such as contracting your muscles. However, the body stores very little energy. The energy stored in your muscle takes the form of creatine phosphate.
Three amino acids—arginine, methionine, and glycine—join together to form creatine. The process of breaking down creatine phosphate releases energy that can provide an immediate source of fuel for muscle contraction. It gives us the energy boost we need for activities like sprinting or lifting heavy weights.
Because only a small quantity of creatine phosphate can be stored in our muscles at any given time, we depend on a different kind of cellular energy called adenosine triphosphate (typically abbreviated to ATP) for more sustained exercise activities. As with creatine phosphate, the breakdown of ATP provides energy that can fuel muscle contraction. When ATP is broken down, it forms adenosine diphosphate (ADP). Your body then regenerates ATP from ADP and phosphate in small organelles in the muscle called mitochondria.
There are a number of proteins in the mitochondria that enable the production of ATP from the oxidation of glucose, fatty acids, and amino acids. These specialized proteins are called enzymes. The more mitochondrial enzymes you have, the more ATP can be produced and the more energy is available to fuel muscle function. The number of mitochondrial enzymes depend on the number of mitochondria and the number of oxidative enzymes in each mitochondria.
Amino acids play a crucial role in increasing both the number of mitochondria available to generate ATP as well as the number of enzymes within each mitochondria. Both the formation of new mitochondria and the enzymes they contain result from protein synthesis.
A proportionately blended amino acid supplement stimulates the production of new mitochondria and increases the number of enzymes in the mitochondria by stimulating mitochondrial protein synthesis. Thus, an ample availability of dietary amino acids is an indispensable part of producing the energy our bodies need to keep functioning and to perform at their best.
Amino Acid Benefit #3: Endurance Enhancer
In addition to increasing your body's ability to produce physical energy to fuel exercise performance, amino acids can help improve mental energy during a long workout.
Your mental energy depends on the balance between the inhibitory neurotransmitter serotonin (which brings on feelings of calm) and the excitatory neurotransmitter dopamine (which stimulates feelings of excitement). These neurotransmitters are made inside the brain from amino acids circulating in your bloodstream. The amino acid tryptophan serves as a precursor to serotonin production and tyrosine fulfills the same role for dopamine.
During long, grueling workouts, the balance between tryptophan uptake and tyrosine uptake can be disrupted. The brain begins to let in more tryptophan, and as production of serotonin outstrips production of dopamine, you end up feeling mental fatigue. You have plenty of physical energy to keep going, but not the cognitive drive you need.
Taking an amino acid supplement with a balance of essential amino acids can counter the increased uptake of tryptophan by the brain, helping you work out for longer by reducing serotonin production and thus delaying the mental perception of fatigue.
It is important to use an appropriately balanced amino acid mixture that also increases dopamine production, as it is the balance between serotonin and dopamine that determines your mental energy level.
As I briefly mentioned earlier when introducing the concept of branched-chain amino acids, taking an imbalanced mixture of amino acids will not yield the results you hope for. While taking a BCAA supplement can reduce the uptake of tryptophan by the brain, it will also reduce the amount of tyrosine taken up by the brain.
In order to boost mental energy so you can sustain focus during a workout, an amino acid supplement must decrease the ratio of serotonin to dopamine in the brain. Decreasing the amount of serotonin will have minimal effect on brain focus and energy if the amount of dopamine is also reduced. It is, therefore, important that you use a balanced amino acid supplement that not only decreases brain tryptophan uptake, but also increases the dopamine precursor tyrosine.
Amino Acid Benefit #4: Mood Stabilizer
As we just discussed, too much serotonin can cause fatigue during workouts. Too little serotonin, however, has been linked to depression, anxiety, insomnia, and overall moodiness. While tryptophan, and subsequently serotonin production, is ideally down-regulated during exercise, it can have a palliative effect when it is increased in individuals battling mood disorders.
Low tryptophan can be especially problematic when you are dieting. Dieting generally calls for eating fewer calories, which typically entails eating less protein, even if you're on a so-called high protein diet. So, it is especially important to consume sufficient tryptophan if you're on a diet.
There are two other standout amino acids for promoting balanced moods. The first, which I introduced in the preceding section, is tyrosine. This amino acid functions as a precursor not only for dopamine, but also for the equally influential brain chemicals epinephrine and norepinephrine. Increasing your intake of tyrosine has been shown to significantly amplify energy, strengthen motivation, elevate sexual function, and heighten concentration, thereby benefiting mood. The best route to increasing tyrosine levels, however, is not to up your intake of tyrosine itself but rather to focus on the essential amino acid phenylalanine, which the body then converts into tyrosine.
The third amino acid that's particularly important when it comes to promoting balanced moods is glutamate. This nonessential amino acid can act as a neurotransmitter itself, but is probably more relevant as a mood enhancer due to its role as the precursor of gamma-aminobutyric acid, better known as GABA. As the main inhibitory neurotransmitter in the brain, GABA helps us feel calm and relaxed and prevents overstimulation of nerve cells. Glutamate is produced from glutamine, so both glutamine and glutamate have similar effects on GABA production.
It's also worth noting that theanine, a non-dietary amino acid, mimics some of the properties of glutamate and GABA. Green tea is one of the few natural source of theanine, and probably responsible for green tea's reputation as a mood enhancer.
Amino Acids Benefit #5: Immune Strengthener
Nutritional deficiencies, stress, and environmental toxins can take a toll on our immune systems. Amino acid support can help keep our immune systems strong.
People with compromised immune systems tend to have low levels of the amino acid cysteine, which is a precursor of the master antioxidant glutathione. To efficiently and effectively increase your stores of this vital amino acid, select a balanced essential amino acid supplement that contains cysteine in the form of N-Acetyl-L-Cysteine (NAC).
Research consistently demonstrates that an increased intake of cysteine can fortify the immune system. According to one study published in The European Respiratory Journal, supplementing with cysteine significantly decreased flu symptoms in elderly patients.
Since cysteine is produced from the essential amino acid methionine, it's also possible to use methionine supplementation to achieve similar effects while promoting the production of proteins involved in the immune response.
Lysine is another amino acid noted for its antiviral and immune-boosting properties. It is traditionally recommended as a preventative nutraceutical for flare-ups of the herpes virus and shingles.
If only one piece of information from this article stays with you, I hope that it is this: in order to benefit from the properties of any individual amino acid, it is vital that you supply your body with an appropriate quantity of all the essential amino acids. That's why research consistently shows that the most reliable way to access the health benefits of amino acids is by taking a carefully formulated essential amino acid supplement.
I've spent 40 years researching amino acids and their effects on the body, and I highly recommend Amino Co EAA supplements. They are formulated in appropriate ratios according to years of independent research, patented, and free of any artificial colors, flavors, preservatives, and fillers. Amino Co has blends for targeted health needs, including Active Aging for muscle and heart health, Athletic Performance for increased endurance, both mental and physical, and Surgical Recovery for healing from injury, surgery, or illness.